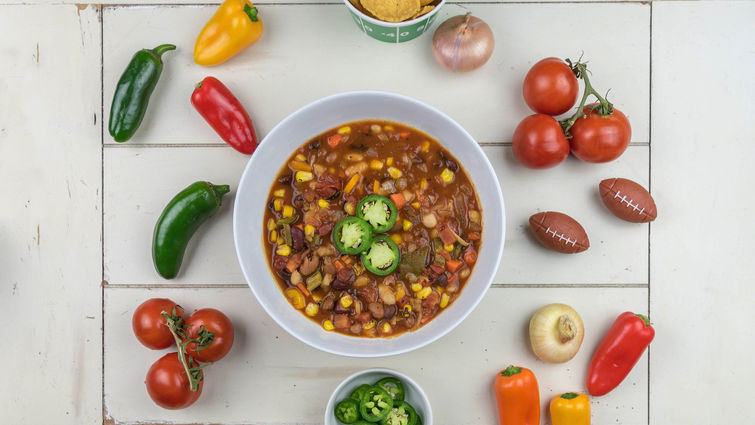 Super Bowl Sunday is a day when people may do some damage to their diet. Calories can add up quickly, and football fans, focusing on the big game,  may not keep track of the snacks they're eating. Nourishing foods may not sound attractive. But with these healthy twists on football game favorites, you can keep your waistline in check without missing out on Super Bowl fun.
Fatty favorites like pizza, nachos, and chips might taste great in the heat of the moment, but April Wilson, MD, MPH, chair of the Preventive Medicine Department at Loma Linda University Health, says they put you at risk for high blood pressure, high cholesterol and unwanted weight gain.
Wilson says there are plenty of opportunities to sneak healthy snacks into the excitement of game day. Here are her top five foods to have at a healthy Super Bowl party:
1. Fruit kebabs
Try making some fruit kebabs with a colorful selection of fruits. Not only can these kebabs be delicious, but they can boost your mood by eating a range of vitamins, minerals and antioxidants.
2. Black bean or humus dip
Instead of a cheese dip, opt for lower calorie counts. Dips like this are easy to make, high in nutritional value and incredibly delicious.
3. Roasted veggies
Veggies may not sounds as appetizing as potato chips, but they can fill you up and help you avoid feeling bloated or sluggish. You can also pick vegetables in the team colors. This year, try red peppers and cauliflowers to match any Super Bowl décor.
4. Cauliflower crust
This naturally gluten-free and grain-free crust alternative sneaks more veggies into your pizza without altering the taste. This is a delicious, nutritious option when paired with pesto or tomato sauce.
5. Lettuce wraps
Some lettuce wraps are loaded with a whole assortment of yummy fillings, and can bring color to your snack table. Crunchy vegetables, fresh ginger, noodles and a touch of lemon can elevate this dish to the top of your game day favorites. Plus, football fans have the option to customize their wrap with a variety of toppings.
If you're looking for more nutrition tips or for ways to lead a healthy life, consider a lifestyle visit consultation with one of our Lifestyle Medicine physicians at the Center for Health Promotion.
They will work closely with your primary care physician to improve your overall health and wellbeing. Please call the Center for Health Promotion at 909-558-4594 to make your Lifestyle Consultation visit today.