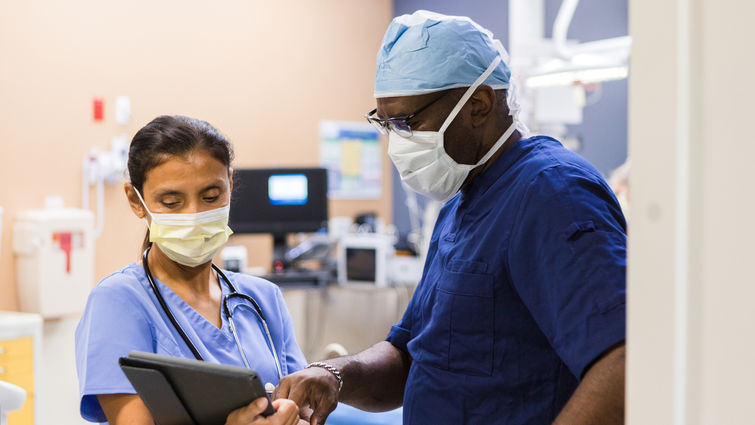 Antibiotics fight bacterial infections, but leftover bacteria can resist the effects and multiply, causing the antibiotic to be less effective in the future. The bacteria can then defeat the drugs designed to kill them and no longer respond to medicine from overuse or over-prescription of antibiotics, leaving individuals at a higher risk for serious infection and death. Resistance leads to 2.8 million antimicrobial-resistant infections and 35,000 deaths yearly, according to the CDC.
Loma Linda University Medical Center and Loma Linda University Children's Hospital are Antimicrobial Stewardship Program Honor Roll Members by the California Department of Public Health.
Richelle Guerrero-Wooley, MD, and Anna Zhou, PharmD, BCIDP, co-direct the Antimicrobial Stewardship Program at Loma Linda University Medical Center and passionately work to limit the resistance among patients. Twice a week, the committee reviews charts for patients receiving anti-infectives in the adult ICU and transplant floors. They evaluate patients who are on certain drugs for three days or longer and decide if it's appropriate that the antimicrobials are warranted for each patient.
"Antibiotic stewardship is not about stopping all antibiotics. It's the hospital's proactive plan in ensuring that the patient is on appropriate medication to limit future resistance," Guerrero-Wooley says.
Alvaro Galvis, MD, and Noreen Chan Tompkins, PharmD, BCPS, APH co-direct the Loma Linda University Children's Hospital Antimicrobial Stewardship Program to promote the judicious use of antimicrobial agents in pediatric patients as well.  The Children's Hospital Antimicrobial Stewardship Team reviews pediatric patients' charts and interacts with providers through "handshake stewardship".  Through these interactions, they advocate for optimal patient care by using the right drug, dose, route, and duration to reduce unintended consequences of antimicrobial therapy.  The Antimicrobial Stewardship Newsletter entitled "Save Lives. Be Antimicrobial Wise" is distributed to healthcare providers throughout the year to advocate for smart antimicrobial use.
"Patients, physicians, and students enjoy the collegial conversation created because it emphasizes the meticulous decisions made when being treated at Loma Linda University Health," Guerrero-Wooley says.
Talk to your primary care provider about your concerns about the overuse of antibiotics.