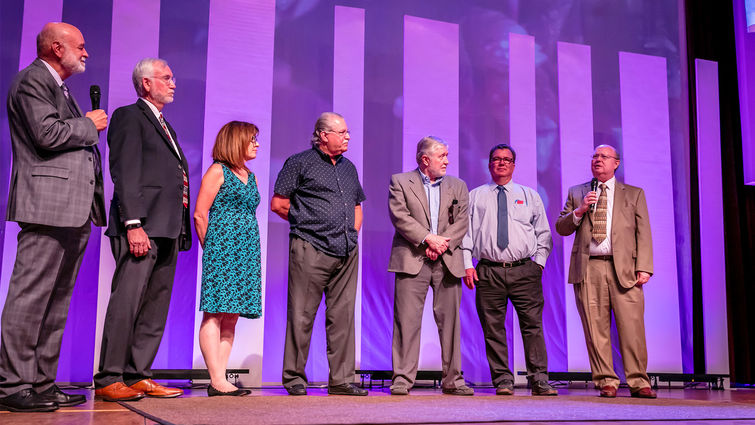 A hospital building's impact on a community and on the world was the theme of a 50th anniversary celebration of the opening of Loma Linda University Medical Center's current cloverleaf structure. The program took place in the Loma Linda University Church, Sunday, August 27.
"Along with the original purchase of the Loma Linda property in 1905, the decision to construct the current hospital building and consolidate medical education on this campus is one of the most significant events in this institution's history," said Richard Hart, MD, DrPH, president of Loma Linda University Health.
That decision came against a background of controversy within both the United States and the Loma Linda organization internally.
"The mid 1960s was a tumultuous time for this country," said Kerry Heinrich, JD, medical center CEO. "There were racial tensions, controversy over the Vietnam War, factions that developed over how we should operate as a society. All of the controversy over the redesign of health care, through Medicare."
Loma Linda University faced additional pressure through demands that accrediting organizations were making for the medical school to combine the two years of science education and the two years of clinical education onto one campus. At the time, Loma Linda University had taught science courses on the Loma Linda campus, while the clinical rotations took place in Los Angeles at White Memorial Medical Center and County USC Medical Center.
After a series of vacillating decisions between consolidating in Los Angeles or in Loma Linda, the board of trustees settled on combining the two programs in Loma Linda. Because of that decision, physicians who also served as faculty members for the clinical program were forced to decide to either stay in Los Angeles or leave their lucrative practices and support the Loma Linda initiative.
While many physicians wondered if they would be able to survive financially in Loma Linda, it was the controversial establishment of Medicare that played a role in the ultimate success of the consolidation.
"In a way I would say it was providential," said Ralph Thompson, a long-time general surgeon at Loma Linda University. "Medicare gave us hope that we would have a way to finance a practice if we moved to Loma Linda."
It quickly became evident that the existing sanitarium building would be inadequate for the clinical education needs. So a project to construct a new medical center building began in 1964. Three years later, patients were transported from the sanitarium building to the medical center on July 9, 1967.
The cloverleaf-shaped tower has become a Loma Linda icon. But as important as the building itself has been, clinical treatment innovations developed at the medical center have gone on to change how health care is delivered internationally. Those developments include:
Proton therapy for cancer treatment — The vision of James Slater, MD, to find a way to minimize damage to healthy tissue while attacking cancer sites with radiation. Loma Linda University Health's James M. Slater, MD, Proton Treatment Center was a leader in the search for ways to target approaches to treating cancer.
Coronary angiography — Melvin Judkins, MD, developed the tools and techniques to revolutionize the approach to cardiac medicine. Judkins invented three types of catheters that are now used by coronary care physicians internationally.
Perinatal research — Lawrence Longo, MD, brought together researchers from various medical and scientific disciplines to study hypoxia and its effect on fetal development. Over 40 years, researchers have moved from relatively simple theories to now looking at genetic modification ideas.
Fetal heart monitoring — Edward Hon, MD, began a residency at the White Memorial Hospital in 1961 after study at Yale University. His work in developing technological solutions to monitoring fetal heart rates has led to dramatic improvements in obstetrical care around the world.
Infant heart transplantation — At the same time that the medical center building opened, adult heart transplants were first being initiated internationally. It occurred to Leonard Bailey, MD, that those same techniques might be used to save babies lives. Bailey's research included the concept of cross species transplantation, which was ultimately attempted in the Baby Fae case. With the support of the institution, Bailey transplanted a baboon heart into an infant girl known publicly only as Baby Fae. About a year later, Bailey performed the first infant-to-infant heart transplant on a patient known as Baby Moses. Infant heart transplant procedures are now done internationally.
Along with the dozens of personal recollections shared during the program, the anniversary event also triggered a look at Loma Linda University Health's future. Again, the organization is in the process of constructing a new medical center building, this time to meet seismic safety requirements imposed by the State of California. This project is taking place during a time of renewed social unrest and racial tension in the United States. And how health care will be financed is again being addressed by the government, through the Affordable Care Act and efforts to modify that program.
"I'm struck by the societal similarities surrounding the two construction efforts," Hart said. "Internally, in 1967 we created a single Loma Linda operation in a physical sense. Today we are progressing toward 'One Loma Linda' organizationally, as we unite under common bylaws and policies.
"We had lots of questions about fundraising," Hart added. "We need to raise $360 million through philanthropy to support the project. We have never raised that amount in a campaign before. We've been blessed, though, as the Vision 2020 – The Campaign for a Whole Tomorrow  project has generated $267 million in support so far."
While the cost difference between the two projects is striking — $22 million for the current building; $1.5 billion for the new construction — the goal for Loma Linda University Medical Center remains the same: to continue the teaching and healing ministry of Jesus Christ.
Vision 2020 – The Campaign for a Whole Tomorrow is a comprehensive campaign that was launched to support a transformational vision for education and research, wholeness and clinical care including the new Adult Hospital and expanded Children's Hospital construction project. "We are blessed by the outpouring of support for Vision 2020," Hart added. "In just a short time we have raised over $267 million toward our $360 million goal.
"We want to create a place where people come not just for medical care, but for healing — body, mind and soul," Heinrich said.
To view a 90-minute video of the anniversary program and learn how to get involved with Vision 2020, visit www.lluhvision2020.org. 
Highlight videos shown during the anniversary program include:
Why the Move - 50th Anniversary of the Cloverleaf Towers
https://vimeo.com/229897109/c7809644e0
Logistics of the Move - 50th Anniversary of the Cloverleaf Towers
https://vimeo.com/231100717/68b62dfd5f
Clinical Milestones - 50th Anniversary of the Cloverleaf Towers
https://vimeo.com/231111670/02f200bb03
The Future - 50th Anniversary of the Cloverleaf Towers
https://vimeo.com/231110718/97e7993017
—By Larry Becker