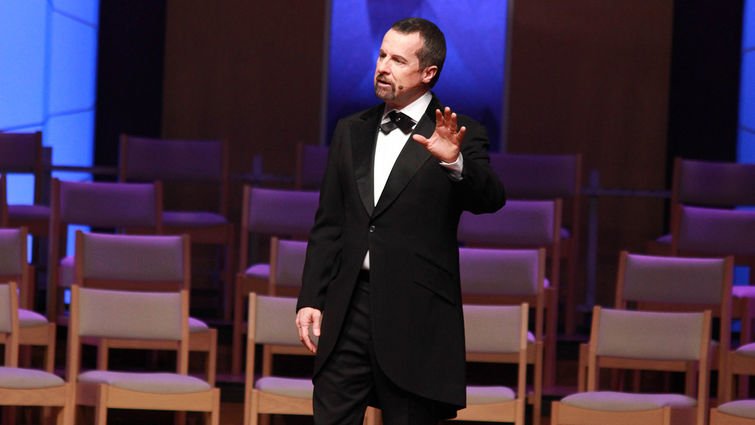 Loma Linda University Health leaders showcased the institution's establishment and longtime expansion of its mission at the Friday evening vespers service during the alumni One Homecoming weekend.
Presenters spotlighted LLUH's collaboration with the nearby San Manuel Band of Mission Indians that stemmed from early outreach when sanitarium doctors and students would ride horses across the valley to help deliver babies of tribal women, a practice that first began in 1911. Also, Pat Morris, former mayor of the nearby City of San Bernardino, highlighted how the university had offered pro bono services for troubled and abused youth over the years.
Throughout the March 3 service, executives underscored their commitment to further expansion of services in Southern California's San Bernardino Valley, all building upon the Seventh-day Adventist organization's founding in 1905 to continue the teaching and healing ministry of Jesus Christ.
"This is San Bernardino and our history of our university being connected with our community," LLUH President Richard Hart, MD, DrPH, said to the audience at Loma Linda University Church.
One presenter related the story of how Loma Linda's founding was controversial among Adventist Church officials. Church co-founder Ellen G. White visited the area and determined "this is the very place" to develop medical missionaries for local and international service. The episode was presented by Loma Linda University Church Senior Pastor Randy Roberts impersonating John Burden, who is credited with having followed White's prompting to help found what was then known as the Loma Linda Sanitarium.
The early debate over founding the sanitarium surrounded the cost of such an institution, Roberts said while portraying Burden. But Burden and other Adventists moved forward in securing land and establishing the sanitarium in faith, with needed funding often coming right before financing deadlines. 
"We have nothing to fear for the future except we should forget God's leading in our past," Roberts said quoting White.
The audience was also updated with stories of LLUH's new San Bernardino Campus facility, which houses Social Action Corps (SAC) health clinics and LLUH's San Manuel Gateway College
One student at the college, Edilma, said she hopes to give others what LLUH once gave her — a push toward wholeness while being treated as a patient at LLUH's Behavioral Medicine Center when she was younger.
"God gave [me] those physicians and nurses [who] gave me another chance at living," she said, breaking with emotion. "My goal is to be a psych nurse so I can give back what Loma Linda gave back to me, which is another chance at life."
San Manuel Gateway College Executive Director Arwyn Wild said the college is appealing for mentors and coaches for students, many of whom need guidance in applying and studying for college courses.
The spiritual service was part of the One Homecoming weekend in which alumni from all LLUH's eight schools are meeting simultaneously.
"There's nothing like having old friends get together," said Hart, LLUH's president.