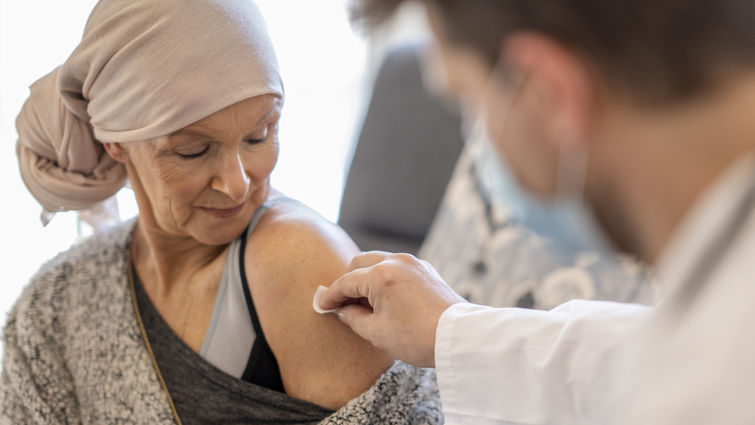 Studies published in the past year demonstrate that people living with cancer and with otherwise moderately to severely weakened immune systems may be less likely to mount a protective immune response with COVID-19 vaccination. In light of this fact, an array of resources, extra safety precautions, and guidelines are available for patients with cancer to safeguard their health.
Gayathri Nagaraj, MD, an oncologist at the Cancer Center, reviews some of the latest protections against COVID-19 available for patients with cancer with moderate and severe immunocompromised state.
The U.S. Food and Drug Administration (FDA) has issued an emergency use authorization for a combination of long-acting monoclonal antibodies known as tixagevimab and cilgavimab (Evusheld) to help lower the risk of COVID-19 infection for people with cancer and others with moderately to severely weakened immune systems. The antibodies may be effective for six months and are administered as two consecutive injections.
The monoclonal antibody combination behaves as a pre-exposure prevention measure for COVID-19, Nagaraj says, and is available as an extra layer of protection for individuals with moderately or severely immunocompromised state who are less likely to mount a protective immune response with COVID-19 vaccination. She advises speaking with your doctor about your interest and eligibility for Evusheld to determine whether it is an appropriate prevention option.
Such use of monoclonal antibodies, however, is not a substitute for COVID-19 vaccination, according to both the FDA and the Centers for Disease Control and Prevention (CDC), and patients who are moderately or severely immunocompromised state should also ensure they are properly vaccinated.
"So far, much of the research surrounding COVID-19 vaccination in patients with immunocompromised state have shown lower immunogenicity and effectiveness," Nagaraj said. "However, it is important to remember that vaccinations are safe in this patient population and is the most vital preventive health measure to protect against symptomatic and severe COVID-19."
Such was the case for an Annals of Oncology study, "COVID-19 vaccination and breakthrough infections in patients with cancer," that Nagaraj and researchers from 27 other medical research institutions co-authored in December 2021. The study was the first to evaluate the characteristics and outcomes of patients with cancer who experienced a "breakthrough" infection after COVID-19 vaccination — not including boosters; findings confirmed that patients with cancer who develop COVID-19 following vaccination have substantial comorbidities and may remain at risk of potentially severe adverse outcomes. Study authors concluded that vaccination remains an "invaluable strategy" to protect patients with cancer and other vulnerable populations against COVID-19.
Such findings about efficacy of primary series of COVID-19 vaccines in patients with moderate or severely immunocompromised state has highlighted the need for third primary dose of an mRNA COVID-19 vaccine. Further research is evaluating the safety, effectiveness and benefit of third primary dose however reactions appear to be mild and temporary, similar to the two-dose primary dose.
To further mitigate the risk of infection for patients with cancer with moderately or severely immunocompromised state  additional safety measures should be exercised, including social distancing, wearing masks in public, and receiving booster doses.
The CDC has also issued specific guidelines regarding additional boosters for patients with moderate to severely immunocompromised state:
For both a primary series of COVID-19 vaccination and booster doses(s), the CDC recommends that an mRNA COVID-19 vaccine (Pfizer-BioNTech or Moderna) is preferred over the Janssen COVID-19 vaccine and the same mRNA vaccine product should be used for all doses of the primary series.
Anyone over 5 years of age should receive at least one booster dose if eligible, and an mRNA vaccine must be used for the second booster dose.
Information about age-specific vaccine products and dosages can be found in the CDC website. CDC's COVID-19 vaccination schedule provides a visual breakdown of recommended vaccines and timelines for vaccination based on age and immune status at the time of eligibility for doses.
Nagaraj recommends adult patients with cancer and moderately or severely immunocompromised state pursue the recommended additional booster doses that could help them mount an effective immune response.
As we await such results, current guidelines regarding primary vaccination series, other safety measures, boosters, and monoclonal antibodies present viable strategies to help patients with cancer in immunocompromised states reduce their risk of severe COVID-19 infection.
"It's encouraging to see our expanding knowledge and understanding of the effectiveness of vaccination along with the additional measures that can be undertaken to help protect our vulnerable patients with immunocompromised state so their cancer management is not interrupted or compromised," said Nagaraj.
---
If you or someone you know who is living with cancer are interested in learning more about COVID-19 vaccines, check out this FAQ page for answers to your biggest COVID-19 vaccine questions, visit our COVID-19 vaccines webpage, or call 909-558-5545.