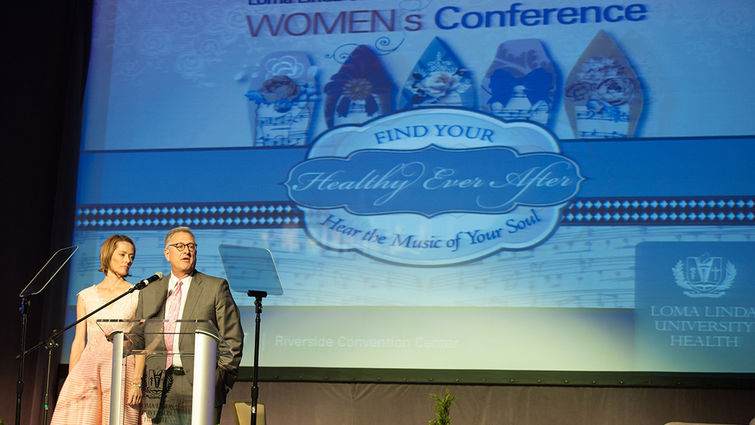 More than 1,000 women attended Loma Linda University Health's 2017 Women's Health Conference, a day-long event offering conference-goers opportunities to learn the latest information in health and wellness presented by local specialists.
Held at the Riverside Convention Center on May 5, the conference theme was "Find Your Healthy Ever After; Hear the Music of Your Soul." Attendees could choose from 22 breakout sessions on subjects such as nutrition, mental health and aging, menopause and hormones, osteoporosis, sleep strategies, foot health, financial strategies, and healthy living. Conference goers also had access to free health screenings, and could meet with health specialists who were at the conference to provide answers to specific lifestyle and wellness questions.
This is the ninth year that Loma Linda University Health has sponsored this conference, said Kerry Heinrich, CEO of Loma Linda University Medical Center.
"Each year we present information to inspire Inland Empire women to make positive changes in their lives and the lives of their families," Heinrich said.
Classical Keynotes
Conference keynote speakers were Ronan Tynan, MD, and Vijay Gupta.
Tynan is best known for his international concert performances as a member of the Irish Tenors. Born with a lower limb disability, Tynan did not let his physical challenges limit him. Instead he displayed an inner drive that enabled him to become a physician and an athlete. Tynan ultimately won gold medals in the Paralympics and set 14 world records in various athletic events. His shared some of the important lessons he has learned at significant moments in his life.
The biggest risk in life is not taking risks, Tynan said. "Don't be the person who says, 'if only I had tried.' "
Tynan recounted times when his parents' love and encouragement helped him overcome setbacks. "Don't be slow in giving support and encouragement to those you love," he said. "The cheapest drug in the world is a smile, and there are no side effects.
"So many would like to turn back the clock and undo the mistakes of the past," Tynan concluded. "But the mistakes of the past will fuel the successes of the future if you're the kind of person who learns from those mistakes."
Gupta is a violinist in the Los Angeles Philharmonic. He has performed solos and recitals internationally. An advocate for the power of art to change lives, Gupta founded Street Symphony, an organization that enables musicians to perform and interact with people experiencing poverty and homelessness.
"I'm a musician, and I never thought I'd become an advocate talking about the issues of mass incarceration, of mass homelessness and the pain of society," Gupta said. "But as a musician I'm a story teller. I carry the stories of Vivaldi and Bach and Handel, along with the stories of the marginalized of society. Those stories give me constant inspiration. Too often we write off the most fragile members of society. But some of the most warm people we've ever played for are people whose home may just be a chunk of sidewalk, or a jail cell."
A life of service
Each year the Women's Conference organizers honors an individual and a community health organization. This year's honorees have close ties.
Melissa Kidder, MD, chair of the OB-GYN department in Loma Linda University's School of Medicine, was named te 2017 individual honoree. Kidder is the child of missionary parents, spending 10 years of her early life in South America. She discovered a passion for music as a teenager. She graduated from the LLU School of Medicine in 1994, joining the school's staff four years later. She provided leadership to the OB-GYN residency program for 10 years before becoming department chair.
"I'm honored to be selected for this award, recognizing what I think is a true joy every day, reaching out to one woman at a time and reaching out as a team for everything we want to accomplish. It warms my heart to see my residents learning how to care for women and provide the care each woman deserves every day of their lives. I am thankful for all the people who extend caring, compassion and love, because each woman deserves top-notch, quality care no matter where she lives, what her condition, or where she comes from."
Kidder disclosed she was recently diagnosed with stage IV pancreatic cancer.
"The fight is real," Kidder said. "I now have a whole new perspective of what it's like to be a patient. But I have a deep trust in my Lord and hope in my future. I'm carried daily by the health team at Loma Linda University Health. I can't say enough about them."
The Community Health Benefit honoree, Malamulo Hospital in Malawi, Africa, has existed for 100 years. Many graduates from Loma Linda University have served there over the years. The OB-GYN, department, under Kidder's guidance, recognized the valuable educational opportunity this offered to their OB-GYN residents. Kidder said she believes strongly in the value of mission service and the professional insights it provides.
With Kidder's encouragement, the first OB-GYN resident went to Malamulo in 2015. Since then five additional residents have taken advantage of this opportunity. It became a required third-year rotation for the School of Medicine's OB-GYN department for the class as of July 2016. The Global Community Benefit award establishes an endowment fund to assist the Department in training their graduates to serve, not only in the United States, but globally.
"Our team works diligently each year to design an event that gives the tools and inspiration women need on their journey to better health and a more balanced life," said Heinrich, the medical center's CEO. "This year's theme, 'Find Your Healthy Ever After, Hear The Music of Your Soul,' encourages us all to discover the best wellness plan to be fit and healthy today and in the years to come."