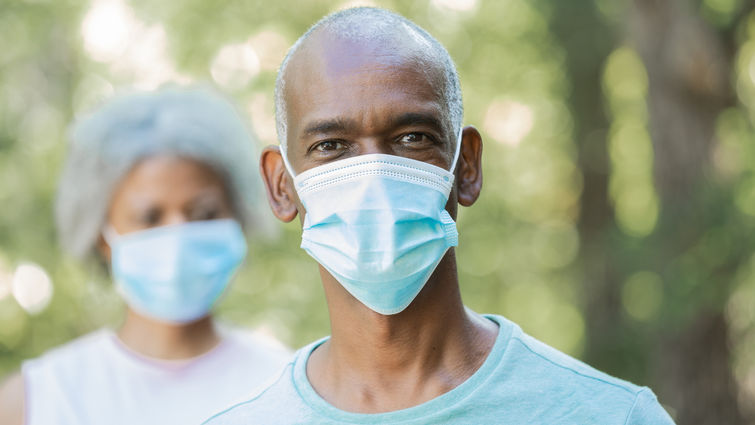 One in nine men will be diagnosed with prostate cancer in the United States this year, according the American Cancer Society. Yet men and women alike are putting off life-saving cancer screenings due to the ongoing COVID-19 pandemic.
Urologist Herbert Ruckle, MD, chair of Loma Linda University Health's Urology Department, says prostate cancer is far too common to ignore — yet some men are unwilling to get checked, especially during the pandemic.
Ruckle says the method for testing for prostate cancer is simple: a conversation with your doctor and a blood draw. 
"Your initial prostate cancer screening is the Prostate Specific Antigen (PSA) exam — it's not a physical exam, there's no other examination accompanying that, at least initially," Ruckle says. "You can ask your doctor to include PSA testing with any lab order for blood work."
What you should know about prostate cancer
Ruckle offers a snapshot of prostate cancer, by the numbers:
It's one of the most common cancers in men, both in the U.S. and globally.
Approximately 192,000 men in the U.S. will be diagnosed this year: 1 in 9 men and 1 in 6 African American men.
All men are at risk, but risk increases significantly as men age — if you are 55 to 70, talk with your doctor about a PSA testing on a 1 to 2-year basis.
Genetic risk factors and early screening
Ruckle says some men are at a higher risk for prostate cancer at a significantly younger age — as early as 40 years old. He encourages early prostate cancer screening, a PSA test, for men ages 40-54 if they meet the following criteria:
Are of African-American decent.
Have a father, brother, son, uncle or grandfather who has had prostate cancer.
How pandemic habits may contribute to increased risk
Ruckle says there is a huge diet, fitness and wholeness component to prostate cancer that many men are unaware of, but they all have a significant impact on health outcomes. 
"Since the pandemic, we have seen an increase of bad habits among patients who are coping with the pandemic, which can contribute to an increased risk of prostate cancer and the success of a cancer treatment plan," Ruckle says. 
Additional risk factors include:
Putting off healthcare. Both men and women are guilty of ignoring health issues because of the pandemic. "It's important for men and the influential women in their lives to understand how crucial getting tested is, even during a pandemic," he says. "Loma Linda University Health takes great measures to safely treat and protect patients amid the COVID-19 outbreak."

Belly fat. "Because of the pandemic, we are seeing a surge in weight gain from patients reporting a change in lifestyle: lack of exercise and poor diet choices," Ruckle says. He says studies show if your belly circumference measures greater than 36 inches, you are at greater risk. To prevent an increase in belly fat, he encourages a plant-based diet, low in simple carbs and processed foods and adherence to an exercise regimen — all of which have been correlated with a decreased incidence of prostate cancer.

Smoking. Some have turned to smoking as a coping mechanism or have upped their smoking due to the stress, boredom and loneliness of the pandemic. Ruckle says you are more likely to have an aggressive form of prostate cancer if you smoke. "Smoking can dictate the level of prostate cancer one will have or does have and your ability to fight it," he says. 
Ruckle echoes the message of three recent prostate cancer survivors, ages 46 to 52, treated at Loma Linda University Health: "It's worth it to know."
To learn more about prostate cancer screening and treatment, visit our prostate cancer webpage. Loma Linda University Health is committed to your health and safety. Visit MyChart to schedule a telehealth visit or in-person appointment, or call 909-558-6600.