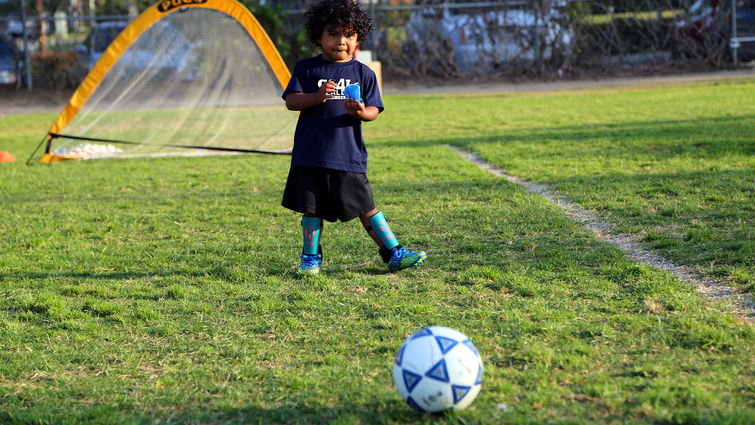 A soccer league that promotes community and wholeness education to families is celebrating a decade of service at Loma Linda University Health.
The Goal 4 Health soccer league, an annual initiative that encourages physical activity, drew 260 community participants during this year's two-month run, up from the usual 200 participants each year.
The community soccer league, held on the sports fields of the Drayson Center, ran from the last week of March through the first week of June and featured various age divisions, including ages 3-4, 5-6, 7-8, 9-10, 11-12 and a mother/daughter league for women 13 years and older.
Goal 4 Health, launched in 2008, is sponsored by the department of Community-Academic Partners in Service(CAPS) part of Loma Linda University Health's Institute for Community Partnerships. Games were held Sunday morning, with practices Tuesdays and Thursdays.
Before each game and practice, healthy living activities were presented by volunteer students from Schools of Dentistry, Allied Health, Public Health and Medicine. The presentations were a hit among players and their families, the program's director said.
"Loma Linda University student volunteers have been a key component in the success of our program," said Pablo Ariza, director of CAPS. "Each season, the players look forward to participating in the fun activities presented by students."
Ariza said 43 of this year's participants were newcomers, 187 were returning players, and 30 were volunteer coaches. Ariza notes that family members of past players have become involved in the program, either by signing up to play or by volunteering to coach or referee. 
Goal 4 Health has inspired entire families to include physical activity and incorporate healthy habits in their lives. A presentation made by a group of respiratory therapy students, prior to a Thursday evening practice, may have prompted one child to ask her father to quit smoking. She said that after she saw the visual aid of a healthy, pink lung compared to a decayed, brown smoker's lung, she was going to talk to her father about quitting.
Sandra Bonola, a mother of five from Riverside, has participated in the Goal 4 Health community soccer league since its inception in 2008, both as a player and a coach.
Bonola said her first experience with Goal 4 Health years ago inspired her to lose more than 30 pounds and make efforts to control her diabetes. "I learned how to eat better, feel better and live better," she said. "I wanted my family to experience how great it felt to be healthier."
Since then, Goal 4 Health has become a family affair for the Bonolas. She said two of her sons joined the soccer league as players and went on to volunteer as referees in later years. Her youngest boy joined Goal 4 Health at the age of 5 and at age 9 he also began playing for a local soccer club, he competed and won a state soccer cup title at age 12. Her two girls have also participated in the soccer league. Her older daughter played for 6 years and Bonola currently coaches her 8-year-old daughter in the mother/daughter league. "The best part about Goal 4 Health is that I get to exercise with my kids and we can discover healthy habits together," Bonola said.
For the past eight years, Bonola has volunteered as head coach for various age groups within the soccer league. After the last game of the 2018 season, Sunday, June 3, she was presented with a plaque in recognition and appreciation of her many years of service. Four other head coaches were also recognized for their volunteer service of five years or more. In addition, a boy and girl from each age division and women from the mother/daughter league received awards for health and wellness and fair play.
"Loma Linda University's health message has improved my life, my children's lives and other families lives," she said. "I am honored to participate in a community program that has that kind of power."