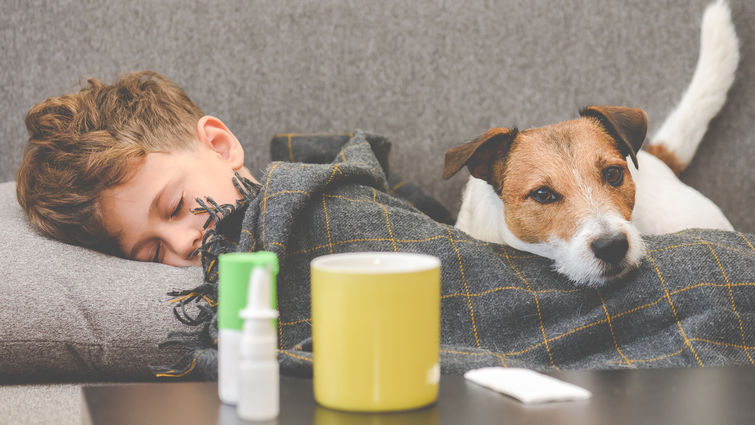 Flu season is nearly upon us — doctors typically start seeing flu cases in this region in October. What might start as seemingly innocent flu symptoms in some children, can turn into a serious illness for others. 
The Centers for Disease Control and Prevention (CDC) reported that a total of 111 influenza-associated pediatric deaths occurred during the 2018-2019 flu season.
Alexandra Clark, division chief of general pediatrics at Loma Linda University Children's Health, says flu-associated deaths of children can be prevented this season by people getting the flu vaccine.
"Loma Linda University Children's Health wants to empower parents with the information and knowledge about the flu and the flu vaccine to help them make a decision that will be beneficial for their child."

Dr. Alexandra Clark
While most people are at some risk of the flu, Clark elaborates on reasons why children may be more at risk of contracting the flu and having that flu lead to severe complications.
1. Weaker immune systems
According to Clark, the younger a child is, the less mature their immune systems are, and therefore, they have a higher risk of contracting the flu virus and having severe complications from contracting the flu. These complications include severe bacterial infections or pneumonia, which can lead to hospitalizations or even flu-related death.
2. Lack of appropriate hand hygiene
"Younger children are often clustered together in small areas such as daycares or schools," Clark says. "These small areas with groups of kids allow for more germs to be shared because kids don't understand appropriate hand hygiene."
3. Chronic medical conditions
Clark explains that if children with certain underlying, chronic medical conditions contract the flu, they are at greater risk of developing severe, life-threatening influenza or complications. Medical conditions including chronic lung disease, diabetes and cancer are some of the highest risks, but chronic auto-immune diseases, congenital heart disease and blood disorders also increase risk. 
Protecting these children includes vaccination when appropriate and also protecting the people around them — lowering the likelihood of exposure.
4. Under the age of 5
"Children younger than 5 years of age — especially those younger than 2 — are at a high risk of serious flu-related complications," Clark says. The CDC lists complications from the flu among children in this age group that includes pneumonia, severe dehydration, worsening of long-term medical problems like heart disease or asthma, brain dysfunction, and even death.
She says it's important to know that children under the age of 6 months are at the highest risk of serious flu complications because their immune systems are fragile and they are too young to receive the flu vaccine. She says it's vital for people coming into contact with their baby, such as family members, to get the flu vaccine themselves to help protect the infant.
An important note from Clark:
Children between the ages of 6 months and 8 years old need two flu shots in the first year they receive them. If they've only ever received one flu shot in a previous season, she encourages parents to have them vaccinated twice this season. If they're over 9 years old, then they can opt for just one shot, Clark says.
Visit our website to find out more information about this year's flu season or schedule a vaccine.
Meet Our Providers
Alexandra M. Clark
Division Chief of General Pediatrics