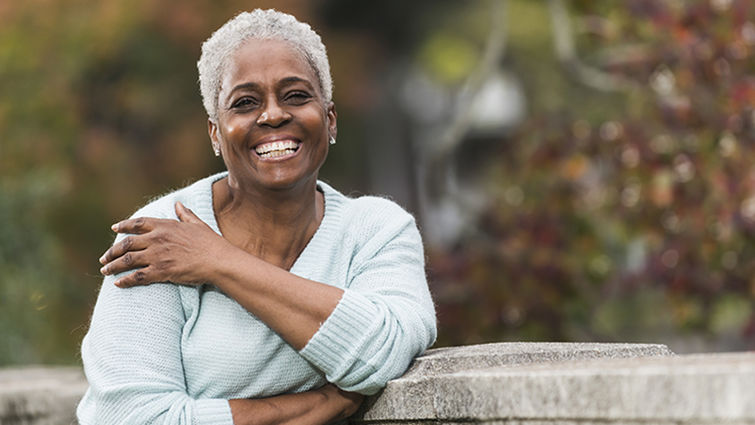 Negative publicity about the "dangers" of hormone replacement therapy during menopause has led to many women suffering needless symptoms such as hot flashes; and hot flashes can last an average duration of 7.4 years.
Put another way, nearly 90 months.
The good news is that most women will experience far more benefit than risk from using estrogen therapy during menopause to manage symptoms, according to William Patton, MD, professor of gynecology and obstetrics at Loma Linda University.
"There's no good reason why you need to put up with hot flashes," Patton said.
He spoke at Loma Linda University Health's 2017 Women's Conference with an interactive crowd of women of all ages, many asking questions that he was pleased to answer.
Patton offered general guidelines for when women should and shouldn't consider using estrogen treatment, based on the latest research as well as consensus of national medical societies such as the American Congress of Obstetricians and Gynecologists, North American Menopause Society and the Endocrine Society.
Estrogen is essential
Before menopause, cells surrounding a woman's eggs produce estrogen. While at 20 weeks of gestation, there about five million eggs in the developing female fetus, from that point forward, eggs begin dying. They are essentially all gone by the time a woman reaches menopause.
Also gone, then, is the natural production of estrogen. Fifty-one is the average age at which women enter menopause, and most of them will go through a transition period called perimenopause for about four years before actual complete cessation of menses.  During this time most women will experience irregular bleeding and more and more hot flashes, and the flashes usually continue after menses stop.
The only truly effective remedy for reducing hot flashes is estrogen replacement treatment, ideally via a patch, according to Patton, who said this is quite safe for menopausal women.
"The risks are very, very small," he said.
There's no good reason why you need to put up with hot flashes.Dr. William Patton
Hot flashes are the most infamous symptom of menopause, but inflammation caused by vaginal or urogenital atrophy is another result that women may experience, leading to dryness, pain with intercourse and bladder problems.
Estrogen therapy will also bring relief to those difficulties, Patton said, and usually at a far lower dose, which can often be delivered vaginally.
Here are four guidelines to help women navigate the estrogen replacement decision.
1. A history of breast cancer
First of all, there is one group of women for whom it should be avoided. Those with a personal history of breast cancer are advised to abstain from estrogen replacement altogether until the long-term effects of estrogen in this condition have been further studied, Patton said.
But for most women, estrogen therapy given within the right time window is a sound treatment for menopause symptoms.
2. The 10-year window
Within the first 10 years of menopause, the benefits of hormone replacement therapy clearly outweigh the risks in the case of most women, according to Patton.
Women who have not undergone hysterectomy should also take progesterone along with the estrogen, to protect the uterus from cancer, which is increased with estrogen alone (except for very low vaginal doses).
Ten years out from the onset of menopause, the typical protocol is to cease hormone replacement. This recommendation may change as more is learned about use of estrogen for longer periods, Patton said.
Unless …
3. Early menopause
More than 10 years of estrogen therapy is recommended for women who enter menopause early, either due to a medical condition or surgical removal of the ovaries.
Patton said women in this situation should take estrogen replacement at least until age 51, and then consider another 10 years after that, just as a woman who undergoes natural menopause.
These are simple enough guidelines that suffice in typical situations. But some physicians and pharmacists add an unnecessary complication to the decision, Patton warned.
4. Bioidentical therapy
Women who choose estrogen therapy may be advised to choose "bioidentical" estrogen. The problem is, virtually all standard estrogen therapy can be bioidentical — the equivalent to what a woman's body produced on its own before menopause, Patton said. But some companies advertise bioidentical estrogen compounded for the needs of each individual woman.
"This is an expensive alternative that hasn't been proven to accomplish anything standard hormone therapy doesn't already do," Patton said.
Plus, the quality control is inferior for individually compounded estrogen, he added.
Sound health care for women
As a professor in the teaching hospital model at Loma Linda University Health, Patton has been training the next generation of obstetricians and gynecologists to give women the best care for over 40 years.
Additionally, Loma Linda University Health offers a variety of women's health services for every stage of life, ranging from obstetrics and pelvic health to heart, female oncology, women's imaging and more.   
"We want every woman to have the power to live a healthy and successful life," said Beverly Rigsby, RN, MBA, who leads the annual Women's Conference and is service line director for GYN women's services at Loma Linda University Medical Center.