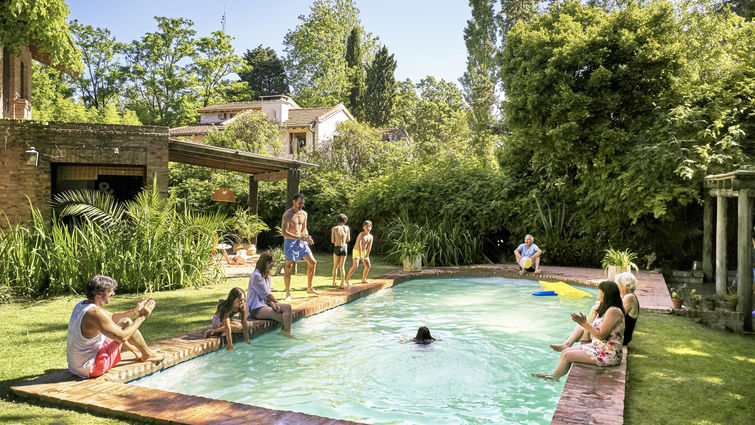 Pandemic restrictions are easing as the summer months come upon us. While relief from the heat often comes from having pool time, says Michelle Parker, Safe Kids Coordinator Inland Empire at Loma Linda University Children's Hospital, parents need to remain vigilant about water safety.
According to Safe Kids Worldwide, drowning is the number one killer of children ages 1 to 4. Enacting layers of protection while poolside can prevent these tragedies.
Parker says one of these important layers is designating a water watcher when kids are in or around water. The water watcher should continually scan the pool without distractions, keeping a special eye on young children and inexperienced swimmers, and even kids who can swim well.  
"Now more than ever, it is easy to become distracted by catching up with poolside conversation, cell phone chats, preparing food and other activities that distract us from the children in and around the water," she says. "Please consider assigning a water watcher whenever around a pool."
Who is an appropriate water watcher?
A responsible, unimpaired adult
Knows how to swim
Can take a shift in doing nothing more than watching the children in and around the water
Has a phone to call 9-1-1 in case of emergency
Can recognize the signs on a child in distress
Each appropriate adult should be the water watcher for 30 minutes, then trade off with the next adult who will be responsible, says Parker.
"The key is to have someone designated to do nothing but watch," she says. "It's easy to think someone else is watching, but unless a plan is in place for proper supervision, often no one is actually watching. Drownings happen quickly and silently."
As an additional reminder and layer of responsibility, Parker recommends water waters have specific tags, such as a lanyard, a wrist coil, or a water watcher card that can be passed to the next adult at the end of a shift.
"Keep your pool time fun and safe this summer," Parker says. "Make sure you utilize water watchers every time there is a gathering at a home with a pool."
Visit the Safe Kids website to find more helpful tips on pool safety.