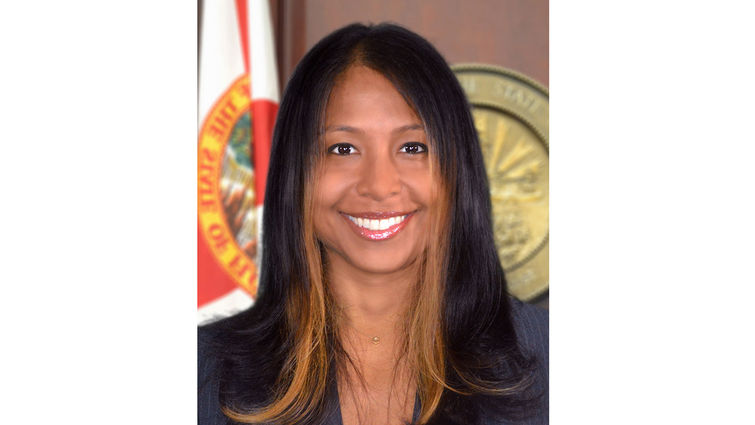 This article originally appeared in the alumni profile section of Scope magazine, Fall 2017 edition.
Just months into her job as the top advocate for wellness and disease prevention for more than 20 million Florida residents, Celeste Philip, MD, MPH, was thrust into the highest-profile role of her career. 
The World Health Organization had declared Zika a Public Health Emergency of International Concern in February 2016, due to transmission in Brazil, the Caribbean and other regions. And by July, the virus, which can cause birth defects, was reported in Florida.
The world was watching.
Under the best-case scenario, the virus could be curbed; at worst, due to Florida's international population and high tourism rate, it would spread fast and far. 
As the Surgeon General and Secretary of the Florida Department of Health, Philip activated her team and launched a massive public education campaign and worked closely with the White House, Centers for Disease Control and Prevention and numerous other public agencies to largely contain the virus. 
She credits her training at Loma Linda University School of Medicine and School of Public Health for helping diminish the spread of Zika.
Philip graduated from medical school in 2003 and became board certified in family medicine and preventive medicine; she also received her MPH, specializing in maternal and child health.
When all eyes focused on the public health crisis in South Florida, Philip harkened back to her days at Loma Linda University where the concept of whole person care and the importance of community health had left a lasting impression.
"There was a tie back to that part of my training," she said. "Lots of things aligned." 
Although there were hundreds of Zika cases reported in Florida in 2016, and dozens so far in 2017, the virus has been largely contained, thanks to additional government resources, public education and mosquito control efforts over the summer, when disease-carrying mosquitoes increase their presence in the Sunshine State.
Rising through a public health career that took her from residency at Florida Hospital, to several local positions in various counties, to then become Florida's top health official is a dream come true for Philip — and in stark contrast to what she had envisioned.
Philip, the daughter of Indian immigrant nurses, was raised outside Washington, D.C., and had junior high dreams of becoming a hairstylist. But a job as a hospital clerk during summers between her high school years at Takoma Academy, and the influence of family members, steered her toward public health and medicine. 
She is an appointee of Florida Gov. Rick Scott, whose term ends in January 2019. Philip doesn't know where her career will take her next, but she's noticed that her plans and God's plans don't always coincide, at least not initially.
"You can't always plan your next opportunity, so I'm staying open, prayerfully," she said. "I feel like God put me in this position for a reason."