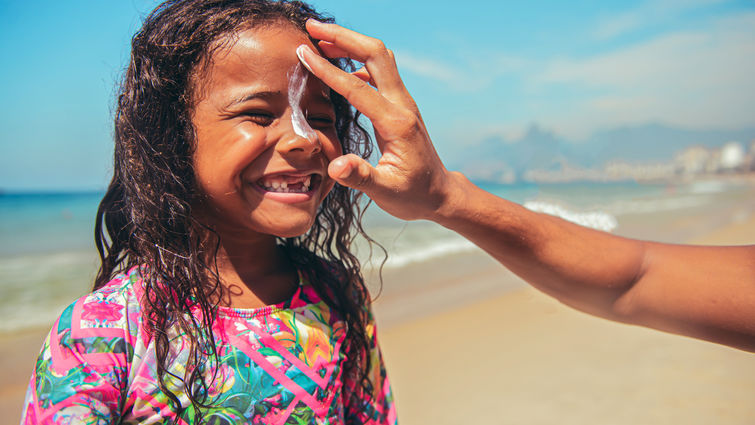 Sun safety can be difficult at all ages, but especially when dealing with younger kids. The Centers for Disease Control and Prevention warn parents that just a few severe sunburns can increase a child's risk of skin cancer later in life.
Alexandra Clark, MD, division chief of general pediatrics for Loma Linda University Children's Health, reminds parents that some sun exposure is healthy. "Sun exposure helps our bodies make the vitamin D necessary for healthy bones," Clark says. "However, too much unprotected sun exposure can cause skin damage, skin cancer, eye damage and more."
A great way to help protect your children from unprotected sun exposure is by applying sunscreen. Clark answers some commonly asked questions below:
1. How old should a child be before wearing sunscreen?
Clark recommends avoiding using sunscreen on a baby that is younger than six months old due to their skin sensitivity. "For babies, it's best to use shade, hats, and other lightweight, protective clothing to keep the child safe from the sun," she says.
2. When choosing a sunscreen, is a higher SPF number more effective?
The SPF number —sun protection factor — shows how effective the specific sunscreen will be at fighting sunburns. Sunscreens with higher SPF numbers provide greater protection, says Clark, but only to a certain extent. "The American Academy of Pediatrics recommends using sunscreens with a least SPF 15," she says. "SPF 50 blocks approximately 98% of the sun's rays."
2. Which type of sunscreen products are best?
Clark says there isn't much difference between using sunblock creams, lotions, sprays or sticks, as long as they have SPF 15 or more. "Some children are sensitive to some types of sunscreen versus others," she says. "It's best to try out a small amount in one area before spreading it across the child's body."
4. How much sunscreen should I put on my child?
While there's no specific amount, Clark says it's important to cover all areas that will be exposed to the sun for any time. "Apply the sunscreen 30 minutes before going outside and reapply every two hours," Clark says. "Make sure to apply more often when the child is sweating excessively or swimming."
5. If it's not sunny outside, should sunscreen still be applied?
Clark says approximately 80% of UV rays will still come through clouds and reflect on other surfaces, such as water, sand, and concrete. "Don't be fooled to think your children won't be exposed to UV rays on days that are overcast and cooler," she says. "It's still important to protect them with sunscreen, especially since they may be outside longer since it's not as hot."
Visit our website to learn more about sunscreen and sun damage.
Meet Our Providers
Alexandra Clark
Division Chief of General Pediatrics