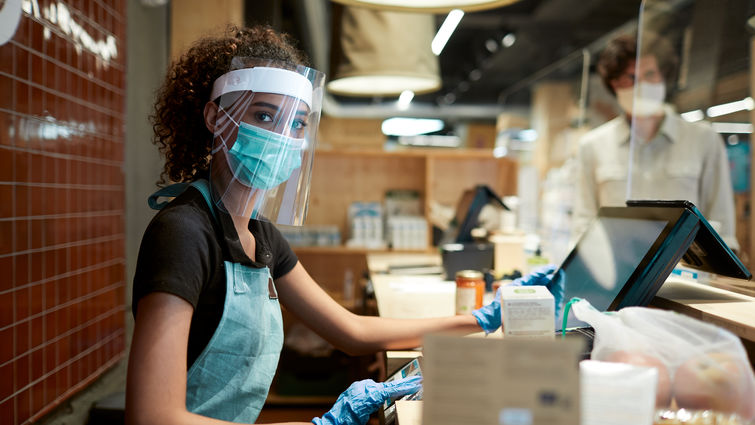 In an effort to help reduce the spread of COVID-19, the Centers for Disease Control and Prevention recommends people wear masks or cloth face coverings. Some people have opted for face shields instead of masks or face shields in addition to face masks.
Which facial protective item is better? Jennifer Veltman, MD, chief of infectious diseases at Loma Linda University Health, says the answer is not that simple.
The U.S. Food and Drug Administration (FDA) says the most effective facial covering is the N95 respirator because it fits tightly on your face and is the best in filtering small airborne particles. In comparison, a surgical mask does not fit tightly to the face and can only filter out large airborne particles. Veltman says community members are wearing a variety of masks, thus making it tough to compare face masks to face shields.
"It's too complicated to compare a face shield to a face mask because people are not all wearing the same masks," Veltman says. "In the community, some people are wearing bandannas, homemade masks or N-95 masks. There has not been a study comparing face shields to masks, and doing such study would be challenging since mask materials vary greatly in the community."
However, Veltman says research has found that face shields are beneficial if someone cannot wear a mask. If someone coughs 18 inches from you while you are wearing a face shield, the immediate viral exposure is reduced by 96%, Veltman says. If the person remains coughing and talking with you for 30 minutes, then the face shield blocks 68% of the small air particles, she adds.
Prolonged exposure reduces the amount of protection of the shield, Veltman says. If someone combines their mask with a face shield, it can provide added protection. Regardless of the statistics supporting face shields as a form of protection, Veltman stands by the face masks as the number one form of protection. She says a mask can fully cover your nose and mouth and fits securely on your face; she believes it adds more protection than a shield, which has open spaces underneath the chin and around the ears.
"The FDA and the CDC recommend wearing face masks," she says. "There has been extensive research on face masks stopping the spread of the virus."
To stay up to date on the latest information surrounding the pandemic, visit the Loma Linda University Health COVID-19 website.