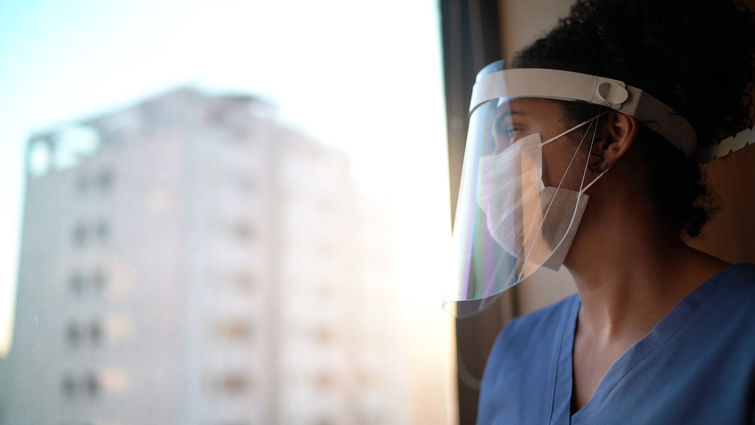 The impact of the coronavirus pandemic on society has been widespread, touching nearly every life in one way or another. One result of this an uptick in suicidal thoughts and tendencies among almost every demographic.
David Puder, MD, a psychiatrist at Loma Linda University Behavioral Health, says the increase in suicidal thoughts is likely due to the loss of connection to typical psychosocial supports, normal activities, and in a lot of cases, jobs — leading to significant financial stress.
The hardest-hit demographics are unpaid caregivers and essential workers, according to a recent study by the Centers for Disease Control and Prevention. "The study reinforces what we're seeing in our patient population — mental illness, substance abuse, and suicidal ideation are all on the rise during the pandemic," Puder says. "We have never had such a large social event that led to widespread social isolation, unemployment, and increased fear of illness."
Unpaid caregivers — which include parents caring for their children, people caring for their spouse, and adults caring for their parents — are especially vulnerable as they try to support their loved ones and maintain their own mental health.
Essential workers are also at a higher psychological risk as they face the fear of exposure to the virus. These workers not only include frontline healthcare workers, but anyone who is in a job where they need to be physically exposed to people around them.
For these groups, Puder recommends these six tips:
Get the prize sleep. Get to bed at 9:30 p.m. to gear up for the next day. That might mean getting young kids to sleep at 7:15 p.m., but it can make a serious improvement on your mood and emotions.
Exercise daily. Try to get some exercise every day, or at least every other day. This may mean taking a morning walk when you wake up, or a jog in the evening. If you have kids, get them in action too. Anything to get them and yourself moving full speed can help their mental health as well as your own.
Get away. Try to find places in nature away from others physically and virtually. Avoid the most popular outdoor places and consider looking up lesser-populated trails. Don't spend that time on social media or checking the latest news — commit to mindfulness and distancing yourself from stressors.
Stay in touch. Make a list of your friends and give them a call once a week. Maybe even consider scheduling that time and making it a reoccurring event. Social media isn't as social as it is entertaining, so put aside time to stay in touch with your friends and family.
Healthy diet. Try to eat three meals per day and make them as healthy as possible. Brain superfoods include avocado, nuts, olive oil (instead of other oils), greens, chia seeds, flaxseed and more. 
Talk to a professional. Get to a therapist or psychiatrist if you are feeling at all suicidal. Feeling suicidal is not normal, and while your friends and family may be able to listen, a mental health professional can give you the tools you need in these situations.
If you or someone you love is experiencing suicidal thoughts, visit our behavioral health services website and learn more about how Loma Linda University Behavioral Medicine Center can help. Request information on a diagnosis or treatment or any behavioral health concerns, and one of our intake coordinators will contact you.
If you or someone you know is in a life-threatening crisis now, seek help immediately. Call 1-800-273-TALK (8255) to reach a 24-hour crisis center or dial 911 for immediate assistance.