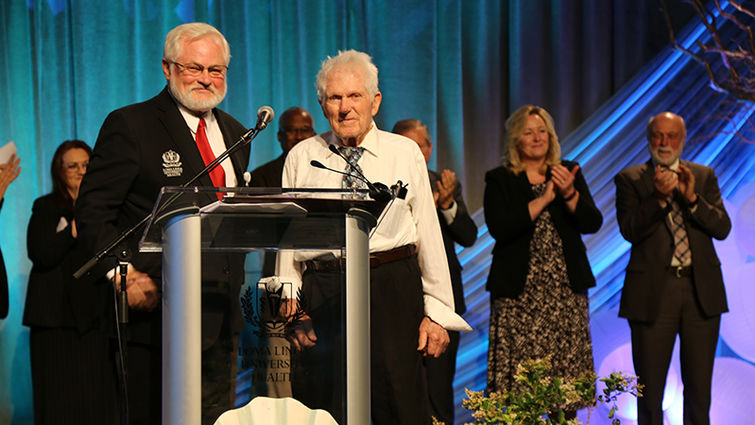 Earnest Daniel, senior animal technician in the animal care facility at Loma Linda University School of Medicine, walked to the stage at the Drayson Center to thunderous applause on May 31. Loma Linda University Health administrators shook his hand and camera shutters clicked as he accepted a pin marking his 60 years of service to Loma Linda University Health (LLUH).
Daniel was recognized during the Employee Service Recognition Banquet for Loma Linda University the evening of May 31.
Earnest Daniel began working at the College of Medical Evangelists (CME) in 1957, four years before it was renamed Loma Linda University. He, his daughter Valerie Downs, son William Daniel and grandson Zachary Downs represent three generations in the same family now working at LLUH. Valerie is an accountant in University Printing Service, and William and Zachary both work for animal care — William as an assistant lab animal technician and Zachary as a registered lab animal technician.
Over the six decades Daniel has worked for the School of Medicine he has taken care of dogs, cats, mice and birds; he also supervised care of baboons that were used in research that led to Baby Fae's heart transplant in 1984. He's never taken care of snakes, however. "I'm afraid of snakes," he says, recalling a rattler that found its way into the yard next to the family's log cabin when he was a boy.
Daniel was hired by the late Mervyn Hardinge, MD, PhD, chair of the college's department of pharmacology and experimental therapeutics. His starting salary was $1.35 an hour. "Dr. Hardinge hired me because I was a farm boy," says Daniel. "He was a beautiful Christian; every week he invited his employees to have worship in his office."
One of Daniel's first assignments was to inject plant extracts acquired from countries outside of the United States into mice to try to find a cure for cancer. In the early 1960s, funding for the project ran out and in 1964 fire struck Risley Hall where he worked.
Twenty-three firefighting units fought the blaze as LLU and Loma Linda Union Academy students risked their lives to rescue animals from a building next door, according to a Feb. 14, 1964 University Scope report. One thousand mice, 1,000 rats, 100 dogs, many birds and other animals were passed through windows to safety. Before the building's walls crumbled, faculty and students searched for research papers authored over months and years of intense study.
As a part-time firefighter, Daniel helped to distinguish the flames; he recalls water three feet deep in the building's basement after the flames were extinguished. While Risley Hall was rebuilt, the top floor was not and the building became two stories instead of three.
"I was taking care of the three ostriches, a male and two females at the time," Daniel says. "While they weren't injured by the fire, the females didn't survive because of stress after we moved them to their new location."
Daniel worked for Charles Hunter, DVM, who consolidated animal care in at LLUH in 1964; Hunter promoted him to supervisor. He later reported to David Wolf, DVM. "I've outlived four or five bosses," says Daniel, who retired in 2003 and continues to work 30 hours a week.
Without referring to notes Daniel recalls key dates and stories beginning in 1932, the year he was born. He and his seven brothers and sisters were raised by his mother and stepfather (his dad died when he was 3 years old) on a 100-acre farm in Missouri where he helped farm corn, cotton, soybeans and tended cows and pigs. "I learned more from my stepfather, who had a third-grade education, than anyone else I met," he says. When they needed supplies, the family relied on a horse-drawn wagon to travel seven miles to the town of Brosley, Missouri, with the horses traveling at four miles an hour.
Daniel joined the Air Force on Dec. 10, 1952, to avoid being sent to Korea. He was stationed in Texas where he completed basic training and become certified as a jet fighter mechanic.
Following training, on July 7, 1953, he was stationed at March Air Force Base in Riverside County. Just two months later, while celebrating Labor Day at a Riverside park, he saw a young woman with her friend near the lake. "Her name was Shirley Saxby and I sat on the swing next to her, got her address and wrote her a letter to ask her for a date," he says.
Saxby turned him down, stating that she couldn't date anyone who drank, smoked or danced. He responded: "I don't drink or smoke and I think we could have fun."
The couple courted for 10 months and were married by G.T. Dickinson on July 11, 1954. "Her mother talked me into Bible studies," says Daniel, who was baptized July 10 by Elder Dickinson at the Campus Hill Church of Seventh-day Adventists.
"Shirley and I were together over a month when they shipped me to Newfoundland," he says. He remembers being despondent as he traveled by boat, watching the Statue of Liberty fade into the fog. "I didn't know if I'd ever come back." In Newfoundland he was a mechanic on T33 jet fighters and parked B47s. "Three jet fighters at a time would land while 15 were in the sky doing exercises," he says.
Six months later he left the base to pick up Shirley, making the trip from Newfoundland to Loma Linda on $5. From Chicago, and wearing his Air Force uniform, he hitchhiked to Loma Linda on Route 66, catching a ride in a two-year-old '47 Chevy, treating his new friends to a $2.50 round of hamburgers.
Three of their four children were born in the Loma Linda Sanitarium, and the youngest was born at the new hospital, the Loma Linda University Medical Center.
After leaving the Air Force, Daniel found a job in San Bernardino selling and installing refrigerators for $1.50 an hour, working there until 1957. "After I was laid off, I went to all of the local air bases to try to find work before Dr. Hardinge hired me," he says.
In order to make enough money to raise his family, Daniel worked part-time for the Loma Linda Fire Department for 32 years; he also mowed lawns and trimmed trees with his brother in Loma Linda and Redlands.
"The Fire Department wanted me to work full-time, but I would've had to retire in my 60s. I didn't want to retire that early and I wanted to be with animals — I'm 84 and still working," Daniel says.
"Loma Linda University Health means everything to me," he says. "God has blessed me because of it."