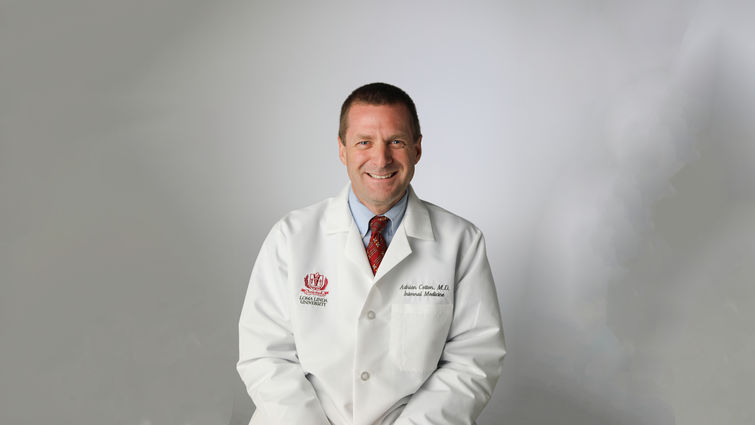 Adrian Cotton, MD, chief of medical operations at Loma Linda University Health, says this year's flu season has already led to an influx of questions from patients — especially since COVID-19 and the flu can bring similar symptoms.
"Physicians are already receiving questions about how we expect the flu season to look in the midst of the pandemic," Cotton says. "There's a lot we don't know yet, but we can look to the past flu seasons to learn more about what we can expect."
Watch the video for the full story.
Q: When should I go to the emergency department if I have the flu?
A: You should only go to the emergency department if you are extremely sick, have a high fever, are short of breath and can't catch your breath, are turning blue around your lips, and are extremely confused. Otherwise, try to stay home and call your primary care doctor.
Q: What are the symptoms of the flu?
A: The main symptoms of the flu are having a fever, cough, being short of breath, having some muscle aches, and being fatigued.
Q: How do I tell if I have the flu or COVID-19?
A: The symptoms of both influenza and COVID-19 are similar, but one of the symptoms that is frequently seen in COVID-19 but not influenza is a change or loss in sense of smell or taste. We should also be able to tell you if you have a cold, COVID-19 or influenza based on rapid testing available through your primary care doctor. 
Q: What are the side effects of the flu shot?
A: A little discomfort in your shoulder, but that's about it.
Q: Why does the flu go away in the summer?
A: The flu is present year-round, but flu rates are higher in the winter due to people spending more time in close spaces and closer to one another. 
Q: If I got the flu shot last year do I have to get it again?
A: The benefit of getting the flu vaccine annually is the protection you build-up to the various strains of the virus. The vaccine isn't 100% accurate, but after getting it annually, you'll have a degree of protection if there are similar strains in the following years.
Q: Is it safe to get a flu shot if I've had coronavirus?
A: Absolutely, and we strongly recommend that you get the flu shot if you had COVID-19 because your immune system is likely weaker.
Q: If I get the influenza shot this year will I be able to get a COVID-19 vaccine?
A: The current recommendation is that once a COVID-19 vaccine becomes available, people wait at least 30 days in between getting the influenza vaccine and the COVID-19 vaccine.
To learn more about what you can do to protect yourself and your family during the flu season, visit our flu page at lluh.org/flu. Loma Linda University Health Primary Care and Urgent Care locations are available for in-person or virtual visits. Appointments can be made quickly and easily online at MyChart or by calling 909-303-9939.