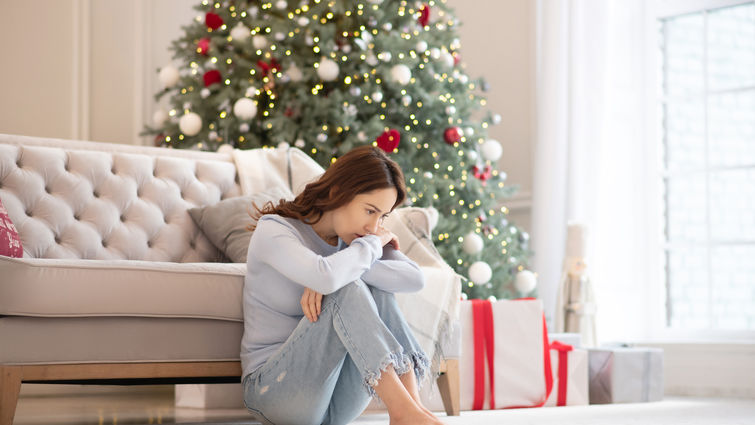 The hustle and bustle of the holiday season often bring a degree of stress and anxiety, but communities this year are struggling with the additional stress caused by the COVID-19 pandemic. Despite many healthcare workers receiving the vaccine, it's still crucial to take the recommended safety precautions as COVID-19 cases continue to rise.
Carolina Osorio, MD, a psychiatrist at Loma Linda University Behavioral Health, says feelings of sadness or anxiety can worsen when traditional holiday plans are canceled and family visits aren't possible.
Osorio says it's important to reach out to others, reduce unnecessary stress and be realistic about what's possible this holiday season to minimize stress around this holiday season.
Seek out support
If you're feeling isolated or depressed, seek out support in your community, through virtual social or spiritual events, and by connecting with family in safe ways. "It's difficult not to be in the same space as loved ones, but a text, call, or video visit can provide company and encouragement," Osorio says. 
Reduce unnecessary stress
Establish boundaries to avoid topics that are high-stress or inappropriate. "This holiday season, focus on what brings us together rather than on the things that make us feel separated," Osorio says. "Discussing politics or airing grievances can lead to division rather than unity."
Additionally, Osorio recommends spending within your means this holiday season, saying retail therapy is a cliché for a reason. "It can be tempting to spend more this year to ease the pain of not seeing loved ones or to get the rush of dopamine with the expectation of going, but be cognizant of your finances to avoid greater stress later down the road," she says.
Be realistic 
Accepting that the holidays will be different this year will allow you to find new ways to celebrate, Osorio says. "Find ways to enjoy this season without risking your health," she says. "Take control of this holiday season and confront the stressors before they take hold.
Osorio also says persistent anxiety, difficulty sleeping, and feelings of hopelessness may mean you should seek more professional help. "Just like you would go to the doctor for the flu, you should see a professional about maintaining your mental health," she says. "If your quality of life is suffering, get help — you're not alone, and you don't need to fight it alone."
If you or someone you love is experiencing suicidal thoughts, visit our behavioral health services website and learn more about how Loma Linda University Behavioral Medicine Center can help. Request information on a diagnosis or treatment or any behavioral health concerns, and one of our intake coordinators will contact you.
If you or someone you know is in a life-threatening crisis now, seek help immediately. Call 1-800-273-TALK (8255) to reach a 24-hour crisis center or dial 911 for immediate assistance.