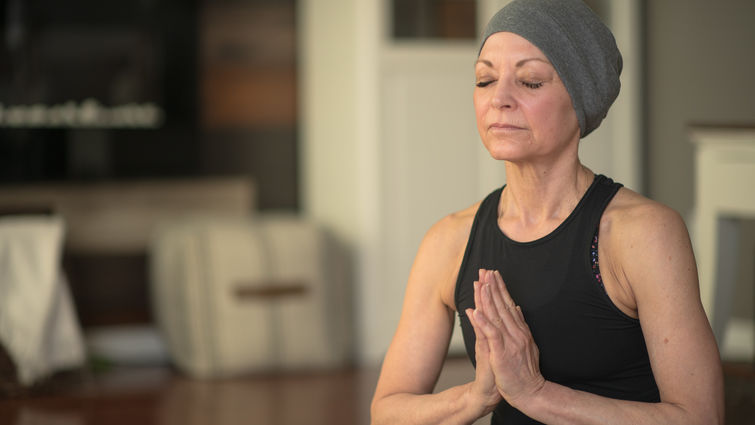 49-year-old Barbara Rader finally found hope that her terminal Stage 4 breast cancer diagnosis may not be the final chapter of her life. And then COVID-19 happened.
When she first received her cancer diagnosis in 2019, she was afraid she wouldn't be around for special moments, like seeing her nephews and god-daughter grow up. When her diagnosis improved in the beginning of 2020, she was hopeful her life would be extended. Then she was hit with another fear: contracting COVID-19 as an immunocompromised patient.
Rader is not alone in her fears around having cancer and possibly getting the virus. Now she wants to use May's Mental Health Month to partner with her Loma Linda University Cancer Center oncology therapist to share her story of coping during crisis. Both women hope Rader's story and the therapist's tips help cancer patients grapple during this unsettling pandemic.
In April of 2019, at age 48, Rader was told she had Stage 4 invasive ductal carcinoma — a type of breast cancer. "It was scary to hear those words," she recalls. "I knew I would have some form of breast cancer when I found a lump. But I would have never thought the cancer would be Stage 4."
Soon after her diagnosis, she began several treatments and surgeries. But most importantly, she began her tough journey of making peace with her diagnosis. Since she was so young, she was determined to disable the disease from having the power to leave her hopeless. After several months of therapy sessions with Loma Linda University Cancer Center's Oncology Therapist Gabriela Gutierrez, PhD, LMFT, Rader was able to regain the courage to be hopeful again.
When she felt fear coming back when the news of COVID-19 broke, she latched onto therapy to get her through this pandemic.
"I had fears of catching it and being compromised because of my condition," Rader says. "I even had fears of catching it and not surviving it. Therapy really helped me talk through my fears and now I do not let the fear cripple me or take my life. Yes, I will be cautious, but I will still take advantage of every day I am here."
Patients like Rader are not alone. Gutierrez says she has spoken with several patients during this pandemic with similar fears.
"Some patients have expressed significantly increased anxiety because they fear COVID-19 could end their life," Gutierrez says. "During our sessions, I like to remind them they may have skills to handle this pandemic other people without cancer are not privy to, due to already having to accept living with a life-threating illness, as well as the ability to truly accept uncertainty."
For May's mental health month, Gutierrez wants to provide these four insights to help patients like Rader cope during this crisis.
Explore the nature of control and the patient's power. Gutierrez reminds patients that, similarly to cancer, we have the control to be proactive in what exists in the today, but the ability to control outcomes is something that never belonged to us. For faith-based folks, she reminds them only God has been in control. For those who are not faith-based, she reminds them tomorrow has never been guaranteed and no one knows what tomorrow brings. We have to find balance between illness and the rest of our identity. The other part of ourselves is what we can control.
Anxiety during this time is natural. Gutierrez also focuses on normalizing a patient's anxiety because headlines tend to focus less on survivorship and recovery, and more on death, despite the fatality rate being significantly less than recovery. However, she wants patients to focus on the whole story. Although mortality rates won't be realized until more data is received regarding the reach of COVID-19, current data suggest the vast majority of people who contract the virus survive. To put it into context, Gutierrez asks, "If your doctor gave you upwards of an 80%-90% percent chance of survivorship, this statistic would be celebrated." Focusing on the full story is important. Gutierrez says she doesn't want to minimize the potential danger of the coronavirus, as some people may take hopeful statistics as a reason to be reckless. But for those who have taken this virus very seriously, the scary headlines can be debilitating, and this intervention of anxiety reduction is to help balance anxiety as we adapt this pandemic into our daily lives.
Stay connected during isolation. One of the unique challenges of COVID-19 has been social isolation. Since cancer is not contagious, many patients relied on their social support systems to find balance in life, she says. Since some social interactions are taken away, Gutierrez encourages them to lean into the technology capabilities afforded to us like Zoom, Skype, Facetime and Facebook to stay connected.
Understanding the difference between being positive and proactive. A lot of her patients are miserable being even more isolated in their homes amidst the pandemic. They are attempting to be positive and feel themselves failing to do so. Although quarantine is not pleasurable, she says they can find moments of pleasure, joy and healing. She encourages patients to light their favorite candle or carve out some time for intentional space — be proactive in making this as enjoyable as possible.
During this pandemic it is important patients have every possible resource to help them cope during this season — from access to physicians to oncology therapy. Comprehensive care is the foundation of Loma Linda University Cancer Center's care model to make sure every patient thrives. To learn more about all of the resources offered at the center, visit their website.