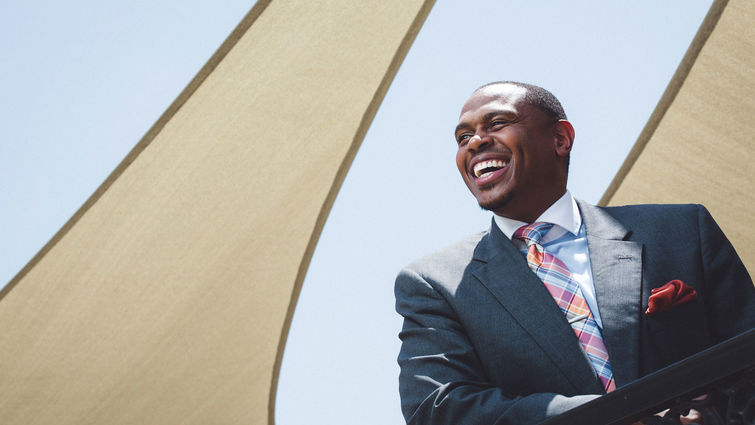 Carl Ricketts Jr., MDiv, and his little sister were raised in a rough neighborhood, exposed to things most people don't experience in a lifetime.
"We saw people abusing people on the street; saw gangs abusing homeless individuals, throwing bottles at them; we've had friends stabbed, murdered; we saw cocaine deals in the local bodegas, we saw crack on the street, crack vials all over the street; heard gunshots at night," Ricketts recalled, then paused to take it all in, "Man, we saw a lot, we heard a lot."
Living in a roach-and-rodent infested co-op in Brooklyn, his mother urged the kids to keep to themselves while walking to and from elementary school; Ricketts forced himself into the refuge of a protective shell.
But everything changed at age 11, when his single-parent mother, Yolanda, had had enough of New York and moved the family of three to Orlando, Florida. Ricketts felt liberated — finally, he was safe to speak to anyone, anywhere, at any time. And he loved it.  
His fascination for getting to know others at a meaningful level led him to become an outspoken university student leader, a compassionate chaplain, and now, the director of Chaplain Services for Loma Linda University Medical Center (LLUMC), a department whose dozen employees provide spiritual comfort for thousands of patients and their family members, students, faculty and other employees.  
"I believe my upbringing in New York and move to Florida uniquely shaped me in building a desire to connect with people in a deeper way, even beyond the confines of what I've known to be safe places," Ricketts says. "My goal is that every day we'll be able to see the value in the people we care for."
As a child and teenager, Ricketts hadn't expected to become a chaplain.
He envisioned a career in business, like his father, who separated from his mother when Ricketts was 5, and who worked in marketing for a radio station. Ricketts thought his dad had a cool job, and got to tag along when 1990s artists such as MC Hammer and Boys II Men came into town for concerts.
Although Ricketts didn't fully realize it, his interest in ministry and leadership first emerged when he started to attend North Orlando Seventh-day Adventist Church, which had robust youth programming.
Ricketts, a public high school student who was recruited by several colleges for his top-of-the-class academic standing, became active in church activities. Basketball was his thing, playing in a church league six days a week with a group of buddies who became lifelong friends. The youthful church is also where he met his future wife, Candice Davy.
Ricketts spent many hours in the school career center researching universities such as Georgetown and Oakwood. He chose University of Florida, in part to honor his mother, who was chronically ill with sarcoidosis, an inflammatory disease. Her sickness progressed at the time she was finally seeing her boy develop into a man in that post-New York life she so fervently prayed for years earlier.
His time in Gainesville, from 1996 to 2000, shaped his spiritual life in profound ways, thanks to his involvement in church. Ricketts joined the choir, got active in prison ministry, participated in feeding the homeless, attended Wednesday night prayer meetings and served in street ministries caring for impoverished communities. He started preaching from sermons written on index cards.
Ricketts insists he never saw himself as a spiritual leader. "To see people nominate me and then vote for me to be a leader of a Christian student organization, then to have leaders nominate me and lay hands on me to preach even before I would ever think of myself as a preacher," Ricketts said, "that was God, man. I don't even know how that happened."  
Several people saw Ricketts' spiritual formation as it developed. One was Lyndon Edwards, MBA, MHS, a church elder and local hospital administrator who became a mentor to a group of at least seven students that would later be called into ministry. 
"The thing that has been consistently true about Carl from the moment I met him and got to know him a little bit, and continuing now, is his passion for doing what he was doing, no matter what that was," says Edwards, now a senior vice president at LLUMC and Ricketts' immediate supervisor. "He always brings a lot of energy — if he's doing it, he's doing it full go."
Despite his seeming inclination toward a ministerial career, Ricketts graduated with a bachelor's degree in business administration, management, and minored in economics and criminology. 
Ricketts was on track for law school when he had a heart-to-heart encounter with God, sensing His calling into ministry. Afterward, he had a phone conversation with his mother. "She told me that she had a dream that I was going into ministry, leading in the service of God."
Two months after that call, his mother died. 
"As I look back on it, I see it like that was her duty in life," Ricketts says, reminiscing on the conversation. "She had always given me to God, but at that moment it was literal, 'You are now in God's hands, I did my job.'"
Ricketts ended up at Andrews University just one month after his mother's passing. He was still heartbroken, which led him to suffer academically and emotionally, and struggle with his leadership responsibilities in the Black Student Association and Seminary Student Forum. "It was debilitating," he recalls. "I'd be in my room, just crying in the fetal position. I would pick up the phone to call my mom, but I couldn't call my mom."
Eventually, he healed, thanks to prayer, fellow students and family members who always looked out for him, and his father, who is now remarried and living in Florida. 
Near the end of his time in seminary, Ricketts was intrigued by the work of chaplaincy because of the opportunity to "help people to be whole" in whatever tradition works for them. 
Ricketts entered the chaplaincy residency program at Florida Hospital in 2004 and worked as a per diem chaplain, staff chaplain, senior chaplain, and then director of pastoral care for Orlando campus. It was a remarkable trajectory, given Ricketts was then barely in his 30s.
Under his leadership, Florida Hospital grew from five chaplains to 12, just at the Orlando campus. Ricketts persuaded administrators to recognize the critical role spiritual care plays not just in life-and-death situations, but as part of patients' care team alongside physicians. 
He successfully proposed a new chaplaincy model in which chaplains would be assigned to specific disciplines, such as the Emergency Department, Intensive Care Unit and Neuroscience, instead of floating throughout the hospital. He wanted chaplains to know medical terminology for the specialized areas they were assigned to, understand the complexities of diseases by attending medical conferences and stay with their patients as they moved along their continuum of care. 
"We wanted our chaplains to have a small community mindset where they can focus on the good of that area instead of being spread thin," Ricketts explained.
Ricketts' work in Florida impressed Gerald Winslow, PhD, LLU professor of religion and director of the Center for Christian Bioethics, when they first met several years ago at a conference.
"I think Carl Ricketts brings superb experience and wisdom to this position as head chaplain," Winslow says. "He's got the right combination of administrative skill and pastoral heart, and I think that's what we need in this position." 
Ricketts, 39, was always curious about living in California, so he was thrilled when an LLUMC search committee identified him as a job candidate.
He moved to Loma Linda with his wife Candice, who is a business analyst at Loma Linda University, and their children, 9-year-old Carl III, 8-year-old Christian and 5-year-old Caitlyn. 
One drawback to leaving Orlando last April was having to move away from his next-door neighbor — his sister, Nneka Ricketts-Cameron — a registered dietician who continues to look up to her big brother. 
She isn't surprised by his most recent calling. 
"He's always been focused — as a little boy, as a teenager, in college," Ricketts-Cameron says. "But he's a people person, very outgoing, very social, and he was able to maintain his focus, and that's what I think drove him."