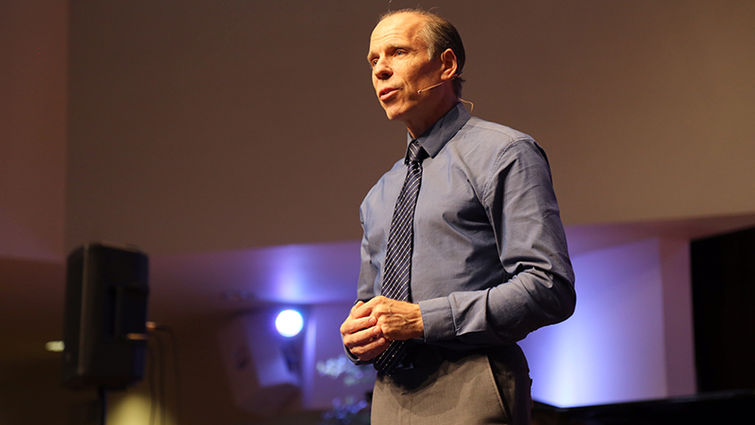 Best-selling author Joel Fuhrman, MD, brought his no-nonsense approach to disease prevention and reversal to a capacity crowd at Loma Linda University Church when he addressed the topic of "Nutritional excellence: the most powerful medicine." The event was held at 5:00 p.m. on Wednesday, September 28.
According to his website—which may be found online at https://www.drfuhrman.com—"Joel Fuhrman, MD, is a board-certified family physician, six-time New York Times best-selling author and nutritional researcher who specializes in preventing and reversing disease through nutritional and natural methods."
"You are in charge of your health destiny," Fuhrman told the enthusiastic crowd. "You can make the decision now not to die of a heart attack, stroke, or degenerative disease. Right now, you have a unique opportunity in human history to take advantage of modern nutritional science.
"Americans are the most overweight population in human history," he continued, pointing out that the average American woman weighs 168 pounds and the average American man weighs considerably more. "That means half the women in America weigh between 170 and 250 pounds."
The problem, Fuhrman noted, is that Americans do not eat enough micronutrients, which he says are found abundantly in vegetables and fruits. He said the solution is a simple dietary equation: H=N/C.
"H=N/C is the first principle of the nutritarian diet," he continued, sharing that the H stands for health expectancy, the N represents nutrients, and the C equates to calories. The nutritarian diet is Fuhrman's term for a diet high in micronutrients from plants.
Citing archaeological evidence, Fuhrman said a study of 400 Egyptian mummies revealed no incidence of heart attack, stroke, or cancer. He identified the culprit behind the current epidemic of degenerative diseases as the standard American diet, which he calls SAD. Nutritionally, the SAD features a deadly abundance of processed foods and animal products, and a paucity of fresh produce and whole grains.
"Your body is a self-healing machine when it gets micronutrients," he said, adding that the SAD does not provide them in adequate quantities. He provoked a spontaneous outburst of laughter when he added that, "Americans eat the worst diet in human history. I think it's been sent here by Al Qaeda."
To counter the micronutrient deficiency, Fuhrman recommends eating G-BOMBS, which he described as "immune system special forces." The acronym stands for greens, beans, onions, mushrooms, berries, and seeds.
"They fight cancer," he said. "Women who eat G-BOMBS on a regular basis have a 71 percent reduced likelihood of developing breast cancer." He added that women who eat mushrooms regularly enjoy a 64 percent reduction in the risk of breast cancer.
"My mission tonight," Fuhrman asserted, "is to impress you that the diseases that kill Americans don't have to happen. Green vegetables dramatically lower the risk of cancer. So do onions. Blend them or chop them up thoroughly, then cook them into a soup or chili."
He went on to point out that eating just one quarter of an onion per day reduces the risk of stomach cancer by 54 percent, prostate cancer by 71 percent, esophageal cancer by 88 percent, ovarian cancer by 73 percent, and colon cancer by 58 percent. While those numbers seem incredibly good, Fuhrman said his statements are supported by numerous research studies affirming their veracity. He said the most valuable studies take decades to complete citing the Adventist Health Studies at Loma Linda University as prime examples.
Fuhrman peppered his remarks with a variety of colorful sayings and suggestions:
• Most Americans need to eat smaller quantities of food
• Eat some vegetables raw at the same time as you eat them cooked
• Mushrooms are better eaten lightly cooked than raw
• Eating sweets, cookies, crackers, and breads promotes cancer
• Food is addictive, just like narcotics
• High-glycemic foods are bad for you
• You should eat nuts and seeds every day
• Beans are great cancer fighters—eat them at least once a day
• Sweets should only come from fruit or dried fruit, and
• The whiter the bread, the sooner you're dead!
Fuhrman saved his strongest criticism for animal products. "If you want to achieve protection from cancer, you can't do it on a diet high in animal products," he announced.
"A high-protein diet from animal products causes a four-fold increase in cancer deaths and a 75 percent increase in overall deaths from other causes. What you need instead is a diet rich in a good variety of plants."
Near the end of his presentation, Fuhrman drew enthusiastic laughter when he noted, "You'd have to be crazy to eat the standard American diet."
Not everyone, however, agreed with all of Fuhrman's advice. Georgia Hodgkin, EdD, associate chair of nutrition and dietetics at Loma Linda University School of Allied Health Professions and a published authority on vegetarian nutrition herself, noted that every student in her upper-level nutrition counseling class attended the event and came away with serious questions about the accuracy of several of his key points.
"Joel Fuhrman prompted a robust discussion in our morning-after class," Hodgkin shared. "Students wondered, 'Where is the protein in his diet with a plate greater than 50 percent covered with green leafy vegetables? With only seven grams of protein per one-quarter cup of cooked beans, how many cups would you have to eat to reach the 50-plus grams needed per day?' They also asked, 'Where is the calcium?' If those greens are raw kale, one cup would have only 90 milligrams of calcium compared to 300 per one cup of milk. The recommended calcium intake is 1,000 to 1,500 milligrams per day, depending on age and gender."
Hodgkin's students also took exception to Fuhrman's rapid-fire style, asking how much information listeners could hear and integrate into their lives.
"Nutrition is abused in the grand old USA," she agreed. "No question of that! His photos of 100-plus pounds of weight loss in two individuals support that. The question is asked, 'How are they doing one year later or five years later? Did they make long-term eating behavior changes?'"
Kathleen Zelman, MPH, RD, director of nutrition for WebMD, expressed similar concerns in response to the question of whether Fuhrman's popular Eat to Live diet actually works.
"You will absolutely lose weight on this plan, but you may not be able to do it long term," Zelman wrote. "Eat to Live is very low in calories, protein, fat, and sodium, and high in fiber. The U.S. government's guidelines recommend shifting toward a more plant-based diet, but this extremely restrictive diet takes it a step further. It eliminates some food groups, and it doesn't allow for snacks, sugar, or oils, which could make it very difficult to stay on." 
Nevertheless, Hodgkin praised Fuhrman for stirring up popular support for the importance of nutrition in human health and tempered her critique with praise.
"The Loma Linda public met a man who was over-the-top excited about nutrition," she observed. "As a registered dietitian, what a joy to see! Hopefully the public, whose plates are void of fruits and vegetables, left planning to add both to the diets. If those plates still have meat, fish, or poultry on them, they caught that leaving those items off would benefit their health and longevity."
Hodgkin concluded with a plug for a nutritional resource developed on the campus of Loma Linda University.
"Stop by the nutrition table at Drayson Center," she suggested, "for the MyPlate Vegetarian Food Guide; a description of the diet taught at Loma Linda University and its predecessor, the College of Medical Evangelists, since 1908."