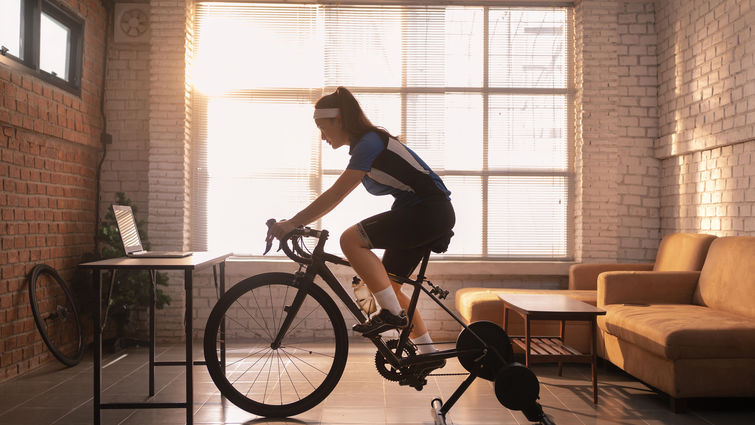 Biking promotes endurance and the overall performance of the heart and lungs, and the musculoskeletal system — especially the spine. In contrast to other forms of exercise such as jogging or aerobics, biking is less jarring to the body; the spine in particular.
Olumide A. Danisa, MD, the chief of the adult spine division at Loma Linda University Health, says when it comes to taking up biking and while suffering from back pain, it's important to investigate the cause of the pain.
"Most people who complain of back pain have a degenerative etiology, or simply wear and tear seen commonly with aging," Danisa says. "Whether you use a recumbent or upright model, riding a bicycle can be beneficial."
When a narrowing and compression of the spinal canal exists, Danisa says exercise leaning forward or crouching can relieve back and leg pain. However, when there is spinal instability and slippage of the vertebrae, he says a forward flexion can exacerbate back and leg pain. "It's essential to know and understand the pathology causing the specific back pain before engaging in a cycling activity," Danisa says.
If someone is dealing with back pain and wants to start a regular biking routine, Danisa offers the following tips:
Before starting
Before starting any exercise regimen, visit your doctor to determine if you are healthy enough to engage in such activity, particularly important if you've had spine issues in the past. Once cleared by your physician, most people — even those with chronic mild back discomfort — should be able to initiate bicycling exercise.
People with more serious or chronic back pain should seek consultation with a spine specialist before initiating cycling as an exercise. This usually means a physical exam and perhaps even x-rays or advanced imaging such as CT scan or MRI. Specific spine pathologies can either alleviate or worsen back pain symptoms.
Warm-up
For both indoor stationary biking or outdoor biking, it is important to warm-up and stretch your muscles before starting the actual ride. This includes loosening up your back to help avoid injury. Use a comfortable bike seat or saddle at the proper height for your body type and inseam. Near the end of the ride, a less intense cool-down period is also advisable.
Training
Regardless of the exercise, it's important to have a training plan to ensure sustainability and minimize injury. Start with an achievable distance or time goal and then build upon that as you become more fit.
For those who ride a road bike, safety is first and foremost. Always wear a helmet, wear highly visible clothes, have your bike serviced to ensure reliability, equip the bicycle with reflectors, and avoid unfamiliar or heavily automobile trafficked routes.
Biking is an excellent form of exercise. It promotes cardiorespiratory health, is low impact, promotes blood flow and strength to the body's muscular core, increases motion to the joints of the lower extremities, and can ultimately improve spine health.
Regular exercise keeps us in good shape by strengthening our physical self. Exercise also has helps maintain good mental health. With social distancing, isolation, and generalized anxiety over contracting a disease during this pandemic, it is easy to succumb to depression and be sedentary. People can still bike while social isolating indoors or outdoors. It can also be done remotely with others via a spin class
Loma Linda University Health's specialized spine surgeons are experts in a wide range of surgical and non-surgical treatments for spine disorders. To learn more about the services available, visit our spine surgery page or call 877-558-0800.