College softball team bullpen manager Phillip Gomez and his team had returned to their home turf in Alabama in March 2019 after finishing a three game series in Mississippi when then 26-year-old says he experienced first-time, excruciating stomach pain. The pain persisted for months as Gomez rapidly lost weight, weakened, and underwent multiple emergency department visits and ICU hospitalization.
He moved closer to his family in California, where he was able to undergo three surgeries at Loma Linda University Medical Center to cure him of ulcerative colitis. One year later, Gomez says he feels he is in the best physical and mental shape of his life and hopes to spread the word about the precancerous condition this Colorectal Cancer Awareness Month.
I am glad I came to Loma Linda University Health, where I benefited a lot from the care and attention they gave me.Phillip Gomez
Ulcerative colitis is an autoimmune disease that attacks the colon, says Alexis Plasencia, MD,  a colorectal surgeon at LLU Cancer Center, who performed Gomez's final procedures. Because the condition creates chronic colon inflammation, Plasencia says the cells that make up the intestinal lining undergo DNA damage. Those cells then replicate with harmful mutations in DNA,  and cancer can form as the process continues over time.
After about eight years of having ulcerative colitis, the risk of developing colorectal cancer increases by one percent each year. "In other words, after 20 years of having ulcerative colitis, the risk of cancer drastically increases by at least 12 percent, making it a significant risk for these patients."
Gomez developed ulcerative colitis at a typical age for the disease, mostly in people aged from early 20s to mid-30s, but sometimes can be diagnosed in the 60s to 70s. He had never heard of the condition before his diagnosis, and he says experiencing its initial symptoms was a frightening ordeal.
Symptoms include but are not limited to joint pain, abnormal skin changes, blood in the stool, chronic diarrhea, trouble eating food, rapid unintentional weight loss, or liver issues.
Though uncertain about why ulcerative colitis develops in people, Plasencia says experts believe genetics may play a role. Having family members with a history of the disease, for instance, places someone at an average of 20-30% chance of developing the disease as well.
Plasencia says that whether or not someone has family members diagnosed with ulcerative colitis, being aware of the disease's symptoms can help safeguard health. If you experience the symptoms, he recommends speaking with your primary physician, who will be able to guide you and coordinate further investigations.
However, if you continue to feel healthy and do not feel any unusual symptoms, there is rarely a need to worry, Plasencia says. Getting a colonoscopy routinely after the age of 45 helps to identify and remove precancerous lesions.
Those with ulcerative colitis usually start on a regimen of inflammatory suppressing medications. When these are not successful, immune-suppressant medications (also known "biologic medications") are started. In order to monitor the disease and assure no cancer develops, patients undergo routine colonoscopies, Plasencia says. Surgery can come into play when a patient shows signs of cancer or when medications do not work, as in Gomez's experience.
Gomez considers his experience with ulcerative colitis a near-death experience and believes an earlier diagnosis would have spared him some suffering. Instead, he lost 50 pounds within six months from constantly experiencing painful, bloody, bowel movements and difficulty digesting food. Once diagnosed, he says he started a medication regimen that temporarily alleviated his symptoms before they returned with more vigor.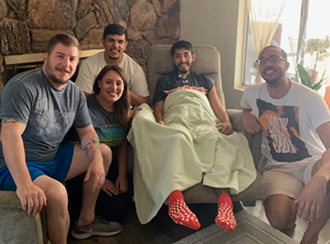 He underwent emergency surgery at a medical institution to remove his colon and was given an ileostomy bag — where the small intestine is brought to the skin and attached to an appliance in order to have bowel movements. His colon was severely diseased, riddled with ulcers, precancerous growths, and had perforated, or torn open. Due to pandemic-related delays, Gomez waited another year to receive two final surgeries that would end his journey with ulcerative colitis.
A care team at Loma Linda University Medical Center led by Plasencia performed these final steps for Gomez via a robotic surgical approach and using small incisions. The procedure involved performing a proctectomy followed by a J-pouch surgery that involves reconstructing the small intestine in the form of the letter "J." The J-pouch allows the body to eliminate waste normally without the colon.
I now believe anything is possible. That mindset is beneficial for me in leading teams because although we often face stressful situations, I know it's nothing we can't handle.Phillip Gomez
Gomez says he was ultimately able to remove the ileostomy bag and focus on regaining a sense of normalcy after years of battling ulcerative colitis. He found himself in Florida working with his traveling softball team about one month later. He says he is grateful to the Loma Linda University Health care teams and Plasencia for facilitating his final steps back to regaining his quality of life.
"I am glad I came to Loma Linda University Health, where I benefited a lot from the care and attention they gave me," he says. "Dr. Plasencia was cool, calm, and collected throughout the process, and I really trusted him."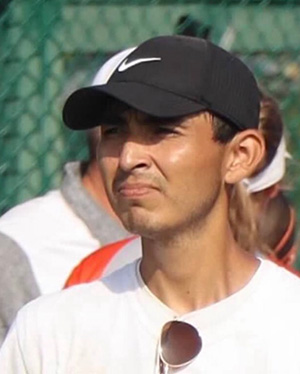 Now that he has overcome ulcerative colitis, Gomez says he brings a strengthened mentality and positive attitude to all aspects of his life, including in his current work overseeing physical education programs in three Southern California school districts.
"I now believe anything is possible," Gomez says. "That mindset is beneficial for me in leading teams because although we often face stressful situations, I know it's nothing we can't handle."
---
Loma Linda University Health physicians and specialists can help answer all of your questions, decipher the clues your body may or may not be giving, or join you on your journey back to health. Learn more about colorectal cancer and services offered at the Cancer Center online or call 800-782-2623.