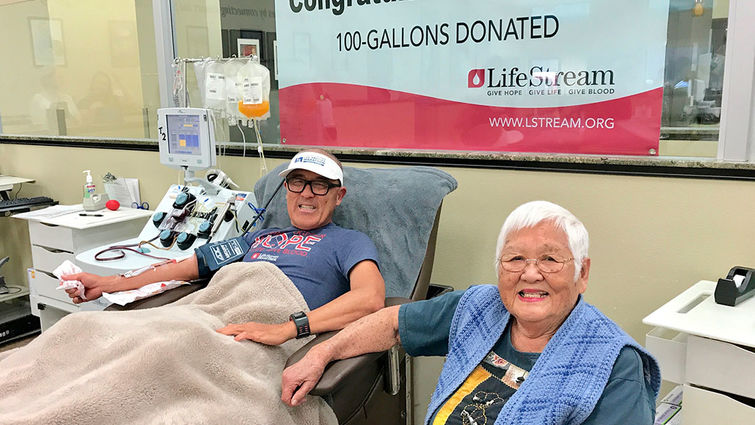 A post anesthesia care unit and recovery room nurse at Loma Linda University Health donated his 101st gallon of blood at LifeStream in San Bernardino on June 30.
Dexter Emoto, RN, a frequent marathon runner, regularly donates blood at LifeStream. Because multiple patients can benefit from each pint of blood, LifeStream estimates that the blood Emoto has donated has benefited between 1,500 to 2,000 people.
Donors may choose which facility receives their blood, and Emoto has chosen Loma Linda University Health to receive all 101 gallons.
Emoto said he is humbled to have passed the 100-gallon mark. "I consider it a privilege and honor to share my blood with the patients at Loma Linda University Medical Center and will continue as a donor," he said. "I give my Lord, Jesus Christ, all the credit — the ability to stay healthy, enjoy my job as an RN and to run marathons is His work, not mine."
Renee Sedillo, a donor specialist at LifeStream, has gotten to know Emoto well during his visits. Sedillo drew Emoto's blood Thursday, June 1, when he was honored by LifeStream for reaching 100 gallons in lifetime blood donations.
"I know that sometimes Dexter comes in straight from working," she said. "He may be tired, but that's how important he considers giving blood."
Emoto became a donor in 1974 while he was attending Pacific Union College in California's Napa Valley. "I knew then that my blood could help someone in need of healing," he said. "Ever since, I've just wanted to share my blood with someone in need.
Emoto joined Loma Linda University Health full-time in 1984 after working as a volunteer nurse in the operating room at Kobe Adventist Hospital in Kobe, Japan. He met Hiroko, his wife of 36 years, while volunteering in Japan. The couple has two adult daughters.
Emoto recently received two medals — the first from LifeStream to commemorate his milestone blood donation of 100 gallons on June 1 and the second earned just three days later, when he completed a full marathon on June 4.
While Emoto usually takes a break from donating right before a race, he didn't want to miss the San Diego Rock 'n' Roll Marathon, which he had run 15 years in a row.
Emoto, whose nickname is "The Marathon Man," began running marathons after a colleague at work encouraged him to run the Los Angeles Marathon.
Emoto joined the Loma Linda Lopers, a club in the Inland Empire that trains walkers and runners. He completed his first marathon in 2004 and has gone on to complete 135 marathons and 137 half marathons with the goal of staying healthy and injury free.
"We all are running a race every day that begins as soon as we wake up in the morning," he said. "How we run it is the challenge we face. With God running with us, we can finish the race."
Dexter is assisting LifeStream with a September 17 5K Life Run/Walk to raise awareness about the importance of blood donation. "I'd like to invite everyone to participate," he said. "A 5K is 3.1 miles and is a great way for everyone, including non-runners to stay active."