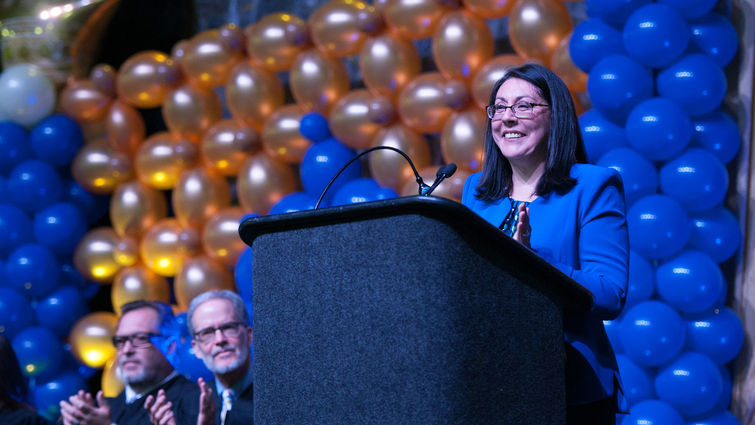 This story originally appeared in Scope magazine.
While answering a call to the scene of a domestic dispute, one of the police officers noticed some movement beneath a pile of sheets.
He looked under the bedding and found a baby, alive but with serious injuries. The police later said the boyfriend of the woman at the home had severely beaten the infant girl and left her for dead.
The police called San Bernardino County Children and Family Services (CFS) to help them decide what to do with the baby. The agency assigned Marlene Hagen, a new social services practitioner, to the case. Hagen had just earned a Master's of Social Work degree from nearby Loma Linda University, and this was her first case.
"Because of the severity of the injuries, the agency didn't offer to reunite the mother with her child," Hagen said. Her job then became finding a good home for the baby girl. After a long search, she found a home and the girl was adopted at two years old.
Five years later, Hagen received a picture of the little girl and her brother, whom they had also adopted, from the adoptive parents. It was their way to say thank you. "The parents wanted to share with me that she was doing really well, and thanked me for bringing her into their lives," she said.
That tragic incident was 19 years ago. Hagen is still with San Bernardino County CFS. Because of her diligence and deep concern for children and their families, she has risen through the ranks. In February 2015, the county promoted her to the post of Director of Children and Family Services. The agency employs about 1,000 employees in six regions serving some 2 million people.
In June, Hagen was the speaker at the hooding ceremony for the Master's of Social Work students from Loma Linda University School of Behavioral Health. She spoke to the new graduates about the importance of the profession they were entering and reminded them that they would be working with individuals and families during the most difficult and vulnerable times of their lives.
"I told them it's all about building relationships and collaborating with the families they will work with," she said. "If they trust you and they connect with you, you will be much better at helping them, and the parents will be invested in their success." 
Hagen has worked with hundreds of children and families over the years. She says one of the most rewarding programs in her department today is the Parent Partner Program, which she and her staff have enhanced over the years. Parents who have been involved with CFS and have successfully reunited with their children mentor and share their experiences with others going through a family crisis.  
The program received a merit award for innovation and best practices in county government by the California State Association of Counties earlier this year.  
"Not only do we hire parents who have successfully reunited as a family, but we also hire former foster youths. That's a tremendous benefit to children and youth trying to cope with the pain and confusion of separating from their family," she said. 
Hagen grew up in the town of Hacienda Heights, nearly 50 miles west of Loma Linda, in the San Gabriel Valley. Her mother emigrated to the U.S. from Mexico in her 20s and married her father, who grew up in California.
"I was raised in a bilingual household. There were three girls in our family, and there was always a huge emphasis on education." Hagen did her undergraduate work at Cal State Fullerton, earning a bachelor's degree in psychology with a minor in Spanish.
After she graduated, she married her high school sweetheart, Tony, and they settled into a home in nearby Ontario. They had two children, Christina and Ian, and moved to a bigger house in Riverside County where she landed a service position at Loma Linda University Behavioral Medicine Center.
There she met a friend and mentor who changed her life. Jim Dyer was the head of the center's social work department and also taught in the social work program at LLU.  
"He saw something in me that I didn't see, something in how I interacted with patients. He asked me if I had thought about going back to school to continue my education." Hagen says she had always wanted to go back to school, "but once you get married and have children and a house … having to pay for my education wasn't in the cards."
Dyer, who has since passed away, told her about the Title IV-E program for students wanting to further their education in social work. She applied to LLU and was accepted to the social work program in the School of Behavioral Health. "Without Jim's guidance and mentoring, I don't know whether I would have gone back to school. Over the years I have made some really good friends and formed relationships with colleagues from the School of Behavioral Health," she said.
She received her Master's in Social Work in 1998 from the Loma Linda University School of Behavioral Health and began her career as a San Bernardino County social worker. Her main job was to get children reunited with their family or, if that wasn't possible, then to get them placed with a family who was willing to adopt or become legal guardians.
Although her work week is filled with administrative functions, Hagen enjoys meeting with her new staff during the Director's Meet and Greet and sharing her nearly 20 years of experience on the front lines helping families.
"I had a new hire today who shared she was a former foster youth, and she mentioned all the good social workers she had along the way," Hagen said. "I shared with the other new hires that it's these types of testimonials that make it worthwhile. Many of the children and youth we work with are resilient and become contributing and responsible adults like this new social worker. This is what the social work profession is all about: making a difference in the lives of the children and families we come in contact with every day."