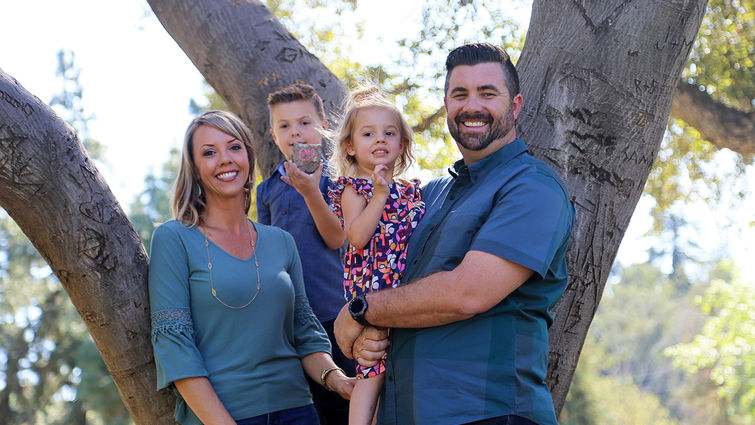 The 4th annual Family Fitness Fun 5K and Expo will bring a host of activities designed to help runners, walkers and other types of movers spring forward into health on Sunday, April 8. The event, which is hosted as a fundraiser for Loma Linda University Children's Hospital by the Big Hearts for Little Hearts Loma Linda Guild, will be held at the historic Burrage Mansion, located at 1205 W. Crescent Avenue in Redlands. Registration begins at 7:15 a.m. and the festivities officially start at 8 a.m.
This year's guests of honor will be two-year-old Vivian Burton, her parents, Dave and Heather Burton, and her brother, Davie. A few weeks after her first birthday, Vivian nearly died from a heart condition no one knew she had. Fortunately, doctors at Loma Linda University Children's Hospital were able to save her life, and today she is the picture of health. The full story of Vivian's return to health is available online at http://bit.ly/2Foi2p5.
The heart of the springtime celebration is a 5K non-competitive run/walk for people of all ages and abilities. The course traverses a quiet, Redlands neighborhood, enabling participants to pace themselves, whether running to improve their personal time, running for health or just to enjoy a leisurely stroll on a beautiful spring morning. Each participant will receive a commemorative T-shirt and medal.
In addition to the 5K, the event will also feature games for children, a fire truck staffed by firefighters from the Redlands Fire Department, a mobile fingerprinting station, officers of the Redlands Police Department, and a mini health fair with several vendors and community groups offering a variety of takeaway materials for guests. Some vendors, such as J.J. Tae Kwon Do, Country Club Golf, and Fox Dance Studio, will offer free demonstrations. Others, such as The Living Root Cellar, will provide healthy and delicious free samples. Representatives of the YMCA East Valley Circus will also be on hand.
Last year, approximately 500 people turned out for the event. Lynn Sleeth, president of the Big Hearts for Little Hearts Loma Linda Guild, says an even-larger turnout is expected this year.
"It's really gratifying to see so many people turning out for this year after year," Sleeth said. "We have gotten remarkable support from the people of the Inland Empire. They tell us it's a great way to get in shape for summer and have a great time doing it!"