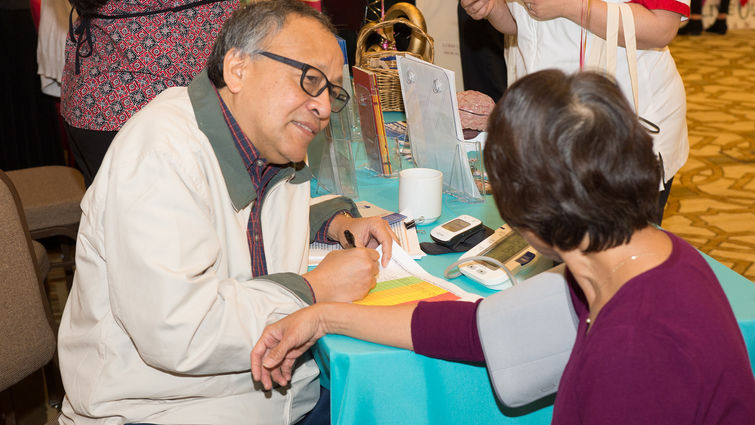 Loma Linda University Medical Center – Murrieta hosted its Second Annual Heart Health Conference — titled Move to Your Heartbeat — on Feb. 15 at the Temecula Creek Inn.
The event provided an opportunity for conference attendees to interact with various vendors, receive free blood pressure screenings and learn valuable heart health tips from leading cardiology experts. Vendors included, Loma Linda University Behavioral Medicine Center, Cooke Chiropractic, Big Hearts Little Hearts Temecula Guild, Brookdale Senior Living, Temecula Olive Oil Company, Rancho Family Medical Group, LLUMC – Murrieta Orthopedics, LLUMC – Murrieta Hyperbaric Oxygen Therapy, LLUMC – Murrieta Cardiac Rehabilitation and LLUMC – Murrieta stroke program.
David Lu, MD, cardiologist at LLUMC – Murrieta, reported more than 500,000 new heart failure cases occur each year. According to Lu, more deaths result from heart failure than all forms of cancer. The most common risk factors of heart failure include: hypertension, coronary artery disease, valvular heart disease, alcohol, infection, diabetes, congenital heart defects, obesity, age and smoking.
For Lu and the other physicians speaking at the conference, the event's goal was educating individuals on the importance of positive lifestyle changes to help prevent heart failure, heart attacks and even stroke. This includes staying physically active, reducing caffeine intake and implementing a low-sodium diet.
Attendees also learned more about new advancements in technology for heart treatment. Niraj Parekh, MD, cath lab medical director and Michael Koumjian, MD, adult thoracic and cardiovascular surgery at LLUMC – Murrieta, talked about a new, minimally invasive procedure — thoracic endovascular aortic repair or TEVAR. TEVAR uses a traditional coronary artery balloon and is used to replace the major blood vessel — the aorta.
Technology has progressed during the last five to 10 years said Parekh. With many new advancements, it's getting easier for patients to recover in one to two days following a TEVAR procedure, ultimately, avoiding open heart surgery.
In addition, guests also had the opportunity to ask questions to Bhoodev Tiwari, MD, cardiologist, Joseph Chammas, MD, cardiothoracic surgery, and Harit Desai, MD, interventional cardiologist at LLUMC – Murrieta during an expert panel discussion moderated by Garrett Caldwell, DMin, executive director of public affairs at Loma Linda University Health.
The 2018 conference was the first year Mt. San Jacinto College and Cal State San Bernardino students attended the conference. It was an opportunity for them to learn more in the field of cardiology and how today's advancements are paving the way for continued quality patient care.
For more information on LLUMC – Murrieta's cardiovascular services, visit murrieta.lomalindahealth.org/our-services/heart-care.