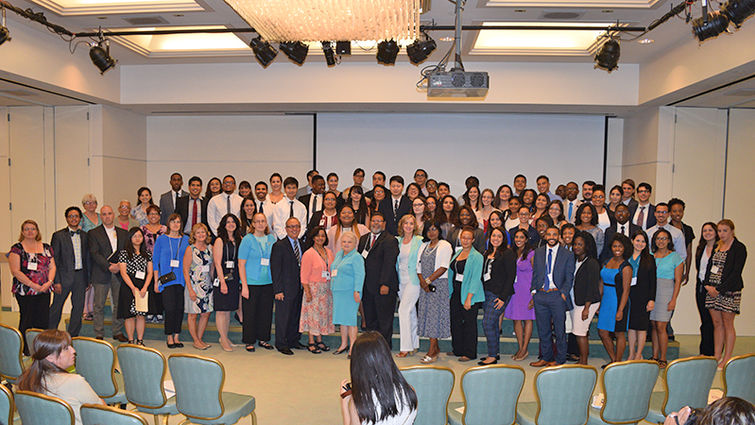 The Center for Health Disparities and Molecular Medicine (CHDMM)—a collaborative effort between Loma Linda University School of Medicine and the National Institutes for Health—recognized 83 up-and-coming health science researchers during its 16th Annual Health Disparities Research Symposium.
The symposium, held Wednesday, August 3, at the LLU Wong Kerlee International Conference Center, showcased the research projects of young people ranging from high school through post-graduate.

Mina Botros, left, shares his research with a symposium attendee.
During the afternoon, young interns presented their research during a poster session, explaining methods and findings to symposium attendees. Later, in a new feature for the event, 10 select interns—ranging from high school of post-graduate—gave "flash presentations," describing their projects in two minutes or less.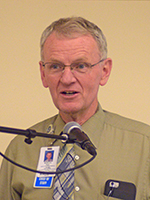 Roger Hadley
"These poster presentations rival any I've seen at scientific meetings around the world," remarked Roger Hadley, MD, dean of LLU School of Medicine. "These young people are presenting cutting-edge findings with a level of sophistication beyond their years."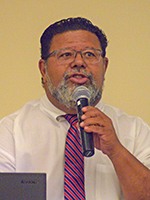 Marino De Leon
"Our program has two major objectives," said Marino De Leon, PhD, director of CHDMM, in opening remarks. "We want to both increase the amount of research into minority health issues and grow the numbers of minority health science researchers. We've provided 614 internships since we received our first NIH grant nearly two decades ago."
Gayle Slaughter, PhD, senior associate dean for graduate education and diversity, and professor of molecular and cellular biology, Baylor College of Medicine, in Houston, presented afternoon and evening keynote addresses.

Gayle Slaughter
Slaughter shared her personal journey into research, beginning with a childhood epiphany while walking to school on a dirt road in rural Louisiana. At that very moment, she decided she wanted to do something that would make a difference in the world.
She credits her life experiences—both positive and challenging—to preparing her for her current role as a champion of young scientists from all socioeconomic and ethnic backgrounds.
At Baylor, she has led in the creation of a number of nationally recognized development programs for young scientists—beginning as early as middle school—designed to develop them into competent and confident scientists. Her words were encouraging to the 2016 cohort of young scientists, their family members, and their faculty mentors.
"You may experience times where the way forward is not clear," she told them, "but be faithful and persevere. God has a plan for you."

Student interns are congratulated upon completing their research programs.
The symposium concluded with recognition for the 83 participants in the 2016 program. Faculty leaders and mentors, as well as keynote speaker Slaughter, congratulated student interns for completing their programs.
A wide range of students interns served on the various research teams, including:
Apprenticeship Bridge to College – 15 high school students
Undergraduate Training Program - 18 university students
Medical Training Program - 8 medical students
Initiative for Maximizing Student Development - 15 PhD students
Behavioral health research – 4 university students
Public health research - 4 university students
Summer Undergraduate Research Fellowship – 9 university students
Guest participants – 10 undergraduate, PhD, volunteer, and medical students