Media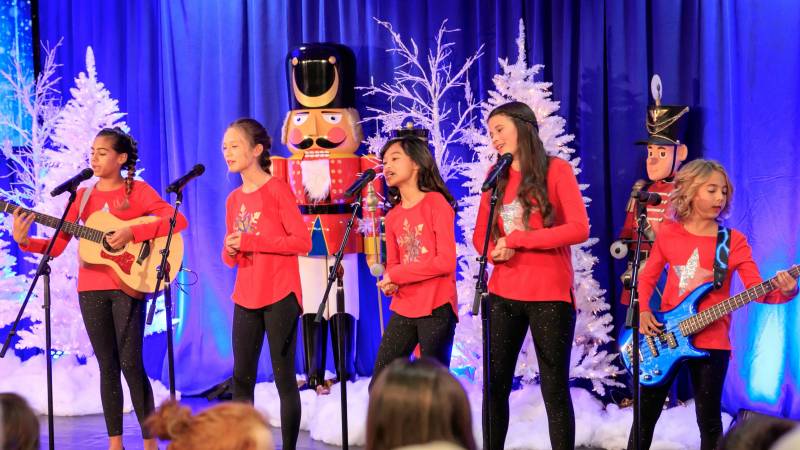 Patients at Loma Linda University Children's Hospital (LLUCH) and their families were treated to an evening of festive music and holiday cheer at the annual Carols in the Lobby on Monday, Dec. 11.
Made possible by the Big Hearts for Little Hearts Loma Linda Guild, a volunteer organization that has raised more than $1.6 million for at-risk children in Southern California's Inland Empire, the event was designed to bring hope and holiday cheer to local children in need.
For the first time, Carols in the lobby was broadcast nationally over LLBN, and Smart LIFE Style international television broadcasting networks, and produced by LLU Cable TV & Media.
Lynn Sleeth, president of the Guild, said the purpose of the program was to provide a positive picture of hope and healing for hospitalized children and the 1.3 million households of the region as well as for millions of viewers across the United States.
The guests of honor, LLUCH patients, as well as friends and family of the hospital, filled the seats, eager for the program to start.
First to perform was Lioness, a singing group of girls, ages 9 to 13. The group, which was founded five years ago, delivered a spirited performance of six holiday selections, including "We Wish You a Merry Christmas."
High school harp duo Claire Elias and Natasha Thomas entertained the crowd by playing holiday favorites on harps. Elias, a freshman at Loma Linda Academy, has been playing the instrument for four years. Thomas, a junior at the same school, has been playing for five.
The Hawarden Singers, a 30-member children's choir from Hawarden Hills Academy in Riverside, sang three selections: "Mary's Boy Child," "Carol of the Bells," and "Silent Night." The acclaimed choir consists of students, ages 7 to 13, who perform at school functions, holiday celebrations and civic events around the Inland Empire.
Pianist Laura Noronha, 15, who has been playing since she was 6, played three popular selections, "The Prayer," a contemporary arrangement of George Frideric Handel's "Joy to the World," and "Have Yourself a Merry Little Christmas." Noronha's piano artistry took her to Carnegie Hall in 2016.
The Loma Linda Academy Saxophone Quartet delivered renditions of "Let it Snow," "Rudolph the Red-Nosed Reindeer," "Grinch," "White Christmas" and "God Rest Ye Merry, Gentlemen."
Ballerina Annalyn Bakland was the final performer of the evening. The 15-year-old, who has been studying ballet since she was 9, took first place at the Youth America Grand Prix semifinals in Los Angeles at 13. Bakland pirouetted between three giant nutcrackers to Tchaikovsky's "Dance of the Sugar Plum Fairy."
Event organizer Sandi Herrmann, a longtime member of the Guild board, says "Carols in the Lobby" springs from the Guild's desire to offer hope and friendship to the children of Riverside and San Bernardino counties.
Herrmann said, "These talented young people wanted to give something back to the kids who live in this valley. Christmas is all about hope and tonight they let their light shine brightly. I am so incredibly proud of these kids and what they did!"
For more information about the Guild, contact Josh Zahid, Guilds manager, by email at jnzahid@llu.edu or by phone at 909.558.5384.
Written by James Ponder & Briana Pastorino
VNR Rundown:
- Lynn Sleeth, Big Hearts for Little Hearts Loma Linda Guild President and hospital mascot Luke the Lion
- Lioness singers
- Audience
- Luke the Lion
- Harp duet, Clair Elias and Natasha Thomas
- LLUCH patients
- The Hawarden Singers, Children's choir
- Pianist, Laura Noronha
- Ballerina, Analyn Bakaland