Hospital was honored with three trophies at the 2017 Symposium Excellence Awards

Media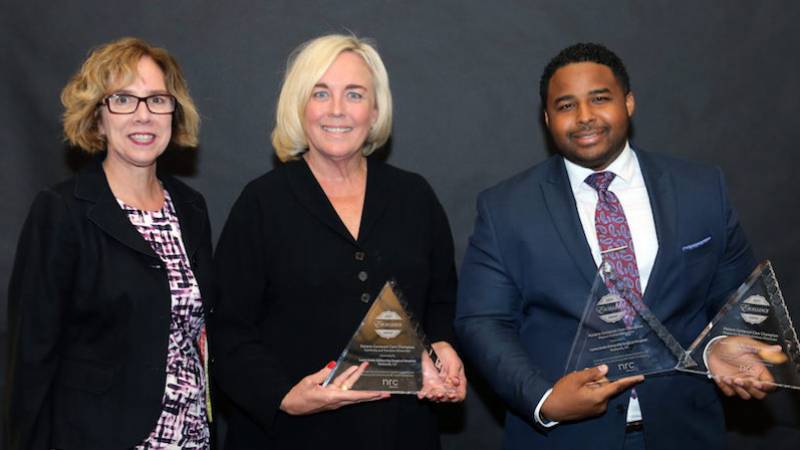 Loma Linda University Surgical Hospital has been recognized for quality patient care by NRC Health with three 2017 Excellence and Improvement Best Practice Awards.
NRC Health recognized LLU Surgical Hospital and other top performing organizations at the 23rd annual NRC Health Symposium for Patient-Centered Care on Sunday, August 6 during an awards ceremony in Boston, Massachusetts.
LLU Surgical Hospital was awarded three "Dimension Awards" for:
Continuity and Transition
Physical Comfort
Respect for Patient Preferences
Jonathan Jean-Marie, MHA, vice president/administrator of LLU Surgical Hospital, said that although 426 hospitals were eligible, only 30 hospitals from the United States and Canada received awards at the Symposium. A top performer, LLU Surgical Hospital was the only organization to receive more than one award, earning three out of eight patient-centered care categories.
"It is a tremendous honor to be recognized for the amazing care we provide to our patients and their families," Jean-Marie said. "It highlights our team's incredible work and commitment to patient-centered care."
The Excellence Awards recognize hospitals and health systems that have exhibited an exceptional commitment for their dedication to improving the patient experience and for understanding individuals' complete care journey. These awards recognize elite organizations who have received the highest ratings of overall satisfaction by patients and their families.
"This award exemplifies our efforts to provide the highest quality of care in the safest, most compassionate environment," said Jennifer McDonald, executive director for patient experience at Loma Linda University Health. "Receiving this award demonstrates how much talent and commitment exists within our walls and our hearts."

Loma Linda University Health includes Loma Linda University's eight professional schools, Loma Linda University Medical Center's six hospitals and more than 900 faculty physicians located in the Inland Empire of Southern California. Established in 1905, Loma Linda University Health is a global leader in education, research and clinical care. It offers over 100 academic programs and provides quality health care to over 40,000 inpatients and 1.5 million outpatients each year. A Seventh-day Adventist organization, Loma Linda University Health is a faith-based health system with a mission "to continue the teaching and healing ministry of Jesus Christ."
Press Contacts
---
Briana Pastorino - Manager, Public Relations