Media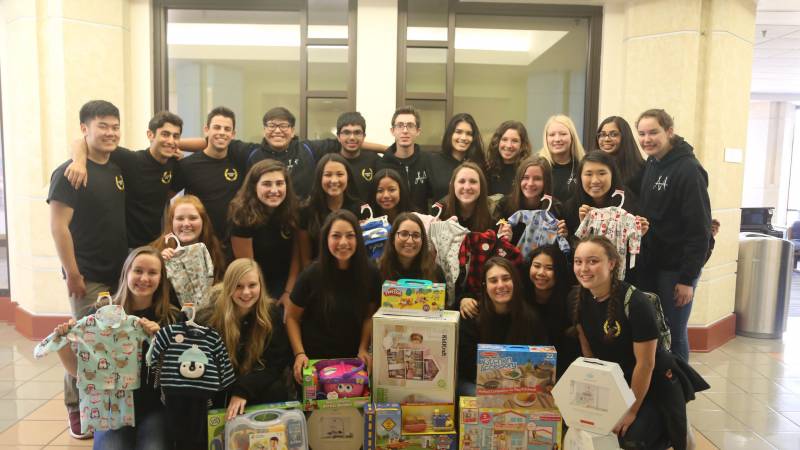 Students from Westlake High School, located in Westlake Village in Ventura County, visited Loma Linda University Children's Hospital (LLUCH) Tuesday, bringing a variety of gifts to the cardiac ICU.
For the past 12 years, Nancy Bowman and her advanced honors anatomy class have raised funds to support LLUCH. This year, students raised $4,500 to purchase gifts for the unit by holding a garage sale. The funds raised went toward buying items off a "wish list" provided by the unit's nurses. Gifts included a doctor play set, Barbie house, onesies and pajamas.
"It's one of my personal beliefs that if there is any way to give back to the Loma Linda community, we will do so," Bowman said. "We want to make sure all the money spent goes toward the cardiac ICU unit."
It was also the first year the unit received two venoscopes, vein finders, thanks to the students' fundraising efforts.
Earlier in the day, the 25 seniors and their parents toured the Simulation Lab at Loma Linda University School of Medicine and the Department of Anatomy. They were able to experience first-hand what it's like to be a medical student.  
The students participating in the program have a strong passion for the medical industry. They were hand-selected to join the class by demonstrating their involvement to their school, community and mission to serve in the medical profession. Bowman says the class is exposed to various dissections (five cadavers available through LLU School of Medicine), ongoing ethical studies, extensive reading and guest lecturers.
Bowman has been teaching the advanced anatomy class for the past 26 years and teaches part-time at Westlake High School. She plans to continue the philanthropic partnership between Loma Linda University Children's Hospital and her class for as long as she teaches.