Study affirms that seniors who eat walnuts enjoy substantial improvement in overall nutrient profile
Media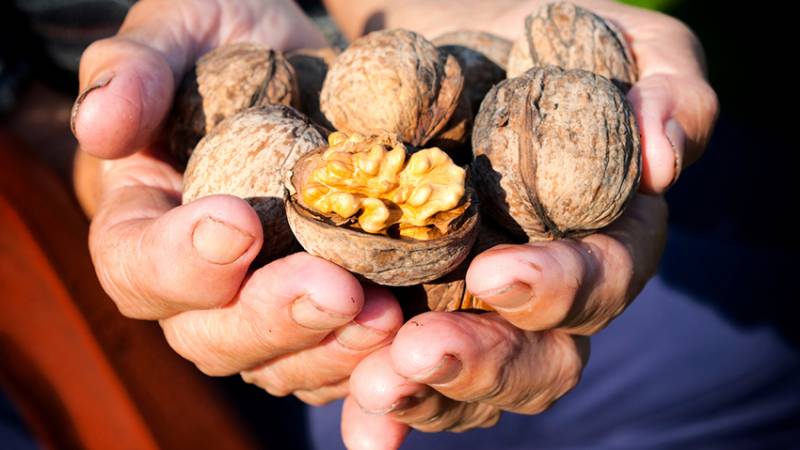 A Loma Linda University (LLU) School of Public Health study published August 23 in the online edition of the British Journal of Nutrition found that seniors who added walnuts to their diet were more likely to make other favorable modifications to their nutrient profile than seniors who did not add walnuts to their diet.
Edward Bitok, DrPH, RDN, now an assistant professor of nutrition at LLU School of Allied Health Professions, was a graduate student at the School of Public Health at the time the two-year study was conducted. The study's findings were incorporated into his doctoral thesis.
Bitok says the goal of the study, which included 317 participants, was to assess what happens to the overall nutrient profile when independent adults on self-selected diets incorporate a noticeable amount of walnuts into their diet.
Joan Sabaté, MD, DrPH, director of the Center for Nutrition, Lifestyle and Disease Prevention at the School of Public Health, has been researching walnuts for decades. Among his findings: that daily walnut consumption reduces serum cholesterol in seniors, that walnuts are high in an omega-3 fatty acid that improves neuron function, and that they contain anti-oxidants and phytochemicals with anti-aging effects.
"We hypothesize that walnuts may have a favorable effect in delaying the well-known age-related cognitive decline among elderly people," Sabaté said.
Bitok noted that the act of incorporating walnuts into the daily diet is a simple strategy for addressing declining nutrient intake in older adults. He also said walnuts promote cardiovascular health without any adverse effects on body weight.
Bitok and his colleagues learned that participants who ate walnuts reported significantly higher dietary intake of total protein, vegetable protein, polyunsaturated fatty acids and omega-3 fatty acids. Participants in the group that did not eat walnuts were found to have consumed significantly more carbohydrates, saturated fats, sodium and animal protein. The two groups did not differ significantly in the intake of dietary calcium, zinc, potassium, folate or vitamins B6, B12, E and D.
(Written by James Ponder, Loma Linda University Health)

Loma Linda University Health includes Loma Linda University's eight professional schools, Loma Linda University Medical Center's six hospitals and more than 900 faculty physicians located in the Inland Empire of Southern California. Established in 1905, Loma Linda University Health is a global leader in education, research and clinical care. It offers over 100 academic programs and provides quality health care to over 40,000 inpatients and 1.5 million outpatients each year. A Seventh-day Adventist organization, Loma Linda University Health is a faith-based health system with a mission "to continue the teaching and healing ministry of Jesus Christ."
Press Contacts
---
Briana Pastorino - Manager, Public Relations