Media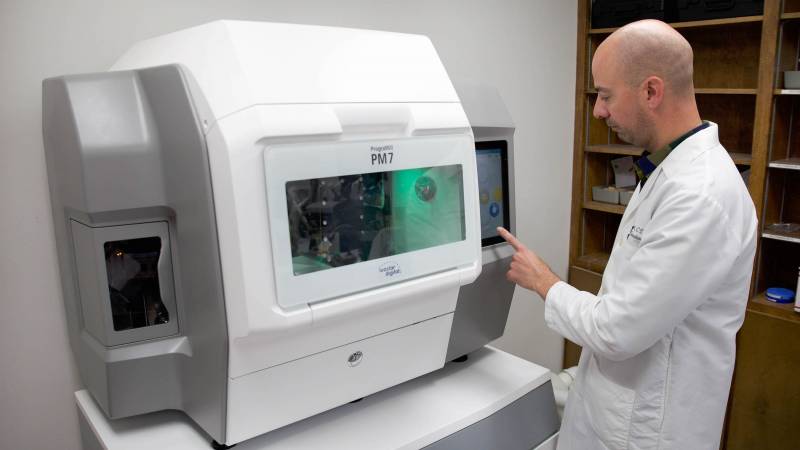 LOMA LINDA, CA — November 13, 2018 — The Loma Linda University School of Dentistry (LLUSD) has added the Ivoclar ProgaMill 7 (PM7) — one of the most advanced digital dentistry production machines — to its dental laboratory. This addition helps prepare dental students to be leaders in their profession because of their advanced knowledge of computer aided design/computer aided manufacturing (CAD/CAM). ​
Within the past decade, digital dentistry has changed the way dentists and dental technicians create dental restorations— restoring the function, integrity and morphology of missing teeth and tooth structures with items such as bridges, crowns or even veneers. Part of that evolution included using CAD/CAM, which allows dentists to digitally design restorations with software and manufacture them with the use of mills. ​
The PM7 is a mill that takes a digital design of patients' teeth that were created by dental technicians and then robotically creates them through subtractive manufacturing. It is one of the most recent advancements in mill machinery because of its ability to create a wide-range of restorations using a large variety of materials.​
Jessica Kim, DDS, director of the Hugh Love Center for Research and Education in Technology at the School of Dentistry, says she was a part of the  team of administrators, faculty and technicians who identified what students needed to know to be successful in private practice and collaboratively worked to acquire this new technology for the school. ​
"We are right up there with the latest technology," Kim said. "As state of the art technology comes out, we are engaging with it, acquiring it and developing best practices to teach it. This new technology will allow our students to be on par with the vision of the future for dentistry."​
Kim says many current practitioners have yet to learn the latest advanced technology and most dentists are currently using pre-CAD/CAM methodology. Before digital dentistry, for patients needing restorations such as crowns or dentures, dentists would make an impression in a patient's mouth and then send the case to the lab for a technician to pour a plaster-type material into it, to create a working model.  ​
The use of CAD/CAM greatly diminishes the need for that laborious task and inserts digital technology. For example, if a dentist shaved down a patient's tooth to make room for a crown, a dentist can now use a handheld scanning wand to digitally image the mouth instead of having to create the mold in the mouth manually. Now, an image is sent to a computer where a technician uses software to digitally build the tooth back up. ​
Once the creation is completed, the digital image file is then sent to a milling machine, such as the PM7. The robotic arms of the machine will then mill or carve out the image it received. The PM7 mill can make dental implant crowns, inlays, onlays, veneers, partial crowns, crowns, bridges, hybrid bridges and digital complete dentures.​
John Won, DDS, MS, a prosthodontist and the Head of the Division of General Dentistry at the School of Dentistry said allowing students to get hands-on experience with some of the latest technology allows them to be more competitive in the profession. Won says CAD-CAM technology and digital dentistry is growing and many practice owners would be thrilled to hire clinicians or recruit associates who know how to use it.  ​
"We want them to go out and be leaders," Won said. "We want our students to be able to go out there and immediately have marketable skills and help practices transition from traditional methods to modern digital dentistry." 
This new technology will provide patients a more efficient chair-side experience. For more information about the School of Dentistry visit their websiteor schedule an appointment by calling 909-558-4675.