Media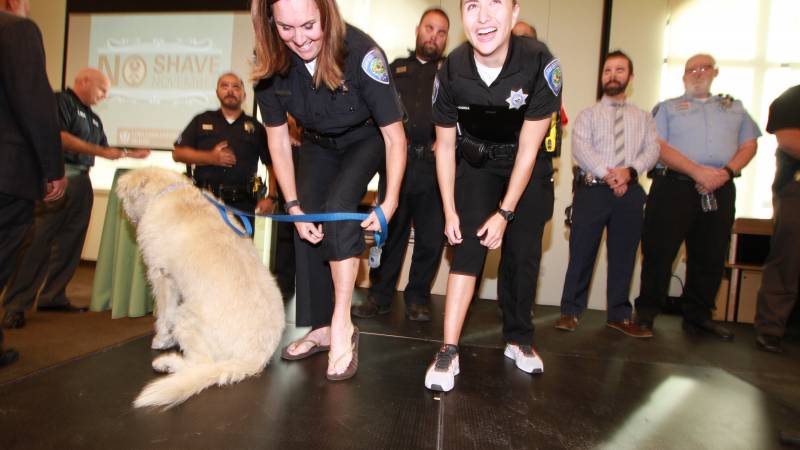 No Shave November came to an end with over $12,000 raised for cancer research at Loma Linda University Cancer Center.
Loma Linda University Health proudly partnered with the San Bernardino Police Department (SBPD) for the third year in a row for the awareness month, during which male and female participants skipped shaving in order to raise awareness about cancer prevention, diagnosis and treatment.
A celebratory event was held at Loma Linda University Health – San Bernardino Campus Thursday, Nov. 30.
Richard H. Hart, MD, DrPH, president, Loma Linda University Health, commented on how the medical field and law enforcement coming together makes the world a better place.
"Life-threatening events pull people together," said Hart, "and that's, I think, the special chemistry that we've had with San Bernardino Police Department and first responders. There's nothing quite like working together in crisis times that makes that happen, and this event is a special part of that."
During No Shave November, SBPD as well as Loma Linda University Health employees, students and staff were encouraged to participate in a variety of ways:
Donate $40 to enter No Shave November and allow their hair to grow wild and free
Make a donation to Loma Linda University Health and help fight cancer in the community
Donate $10 for a commemorative coin
SBPD Assistant Chief Eric McBride announced at the event that so far over $12,000 had been raised in the fight against cancer, which unfortunately has at some point affected almost everyone.
"No Shave November is a great cause, and we're proud to partner with Loma Linda University Health," McBride said.
After the program, five barbers from local barbershops offered free straight cut shaves on site to those men who had participated in the month-long awareness.
The two female SBPD officers who also skipped shaving their legs for the month opted to forgo the barbershop shave.