School of Medicine expands basic sciences to meet market demands for translational research
Media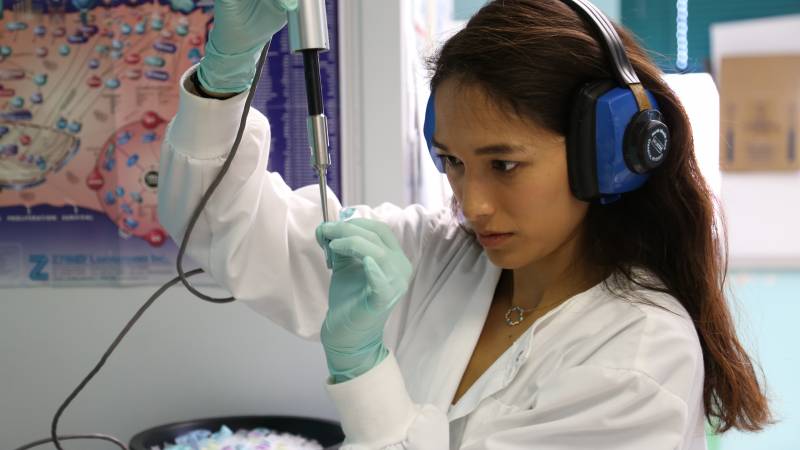 Loma Linda University (LLU) School of Medicine is adding three new biomedical sciences programs — cancer, development and regenerative biology (CDRB); infection, immunity and inflammation; and neuroscience, systems biology and bioengineering (NSBB) — available in master and doctoral degrees, to modernize and promote translational research.
Applications are now being accepted for all three programs. The deadline to apply is May 1.
The programs have been strategically developed since 2014 to advance the quality of research for graduate and doctoral students.
"For the first time we're able to effectively utilize all of our resources to enhance the training, development and competitiveness of Christian scientists for the 21st Century," said Hansel Fletcher, PhD, assistant dean of graduate student affairs at LLU School of Medicine.
Under the new programs, students who previously majored in engineering or physics can now apply to one of the three new interdisciplinary fields.
"Because modern biosciences are no longer strictly disciplinary, the goal is for graduate training to be compatible with contemporary trends," Fletcher said.
The programs will incorporate a broad range of LLU faculty across multiple divisions and centers. Julia Unternaehrer, PhD, and Mary Kearns-Jonker, PhD, will co-direct the CDRB program; Kimberly Payne, PhD, director and Mark Johnson, PhD, associate director will lead infection, immunity and inflammation; and Mike Pecaut, PhD, director and Chris Wilson, PhD, associate director will lead the NSBB program.
New course additions, including a fourth program — integrated anatomical sciences and biomedical education — is underway. Fletcher said the programs will continue to integrate graduate students into existing clinical and/or applied training venues with an added graduate level component.
Existing graduate programs in microbiology, biochemistry, physiology and pharmacology — first offered in the 1950s — are closed to future enrollment. Current students will have the opportunity to finish their degrees or transfer into one of the new programs.
For more information, call Marissa Fulache, EdD, MS, director of student services at 909-558-4527 or visit  https://medicine.llu.edu/research/graduate-programs.

Loma Linda University Health includes Loma Linda University's eight professional schools, Loma Linda University Medical Center's six hospitals and more than 900 faculty physicians located in the Inland Empire of Southern California. Established in 1905, Loma Linda University Health is a global leader in education, research and clinical care. It offers over 100 academic programs and provides quality health care to over 40,000 inpatients and 1.5 million outpatients each year. A Seventh-day Adventist organization, Loma Linda University Health is a faith-based health system with a mission "to continue the teaching and healing ministry of Jesus Christ."
Press Contacts
---
Genesis Gonzalez