Media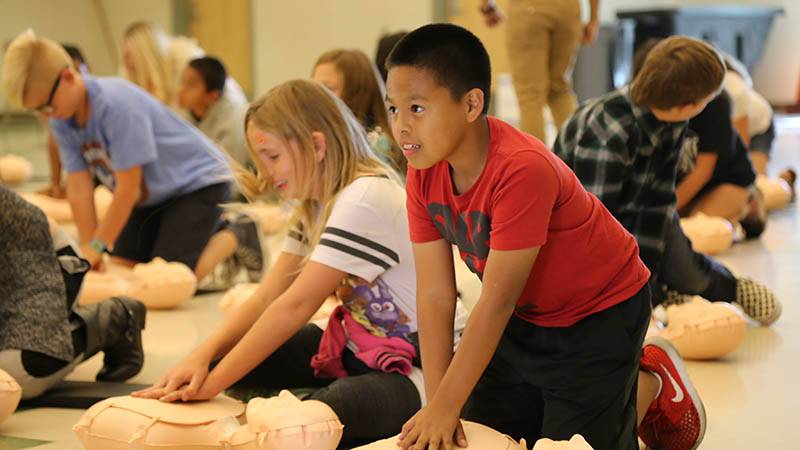 More than 800 students at Chapman Heights Elementary in Yucaipa participated in CPR training on Thursday, Oct. 26 with instruction provided by Life Support Education as part of Loma Linda University (LLU) School of Allied Health Professions.
Students from kindergarten to fifth grade were trained in hands-only CPR by instructors, staff and volunteers from Life Support Education, Loma Linda University's Medical Simulation Center and local city firefighters.
According to Louis Kelly, AHA instructor and BLS instructor coordinator at Life Support Education, this event was the first in the region and maybe in the nation. The partnership with Chapman Heights Elementary is part of a larger initiative originated by Richard Hart, MD, DrPH, president of Loma Linda University Health to train 50,000 students by 2020 in CPR basics.
"We wanted to teach our kids to save a life and challenge others in our nation to do the same," Kelly said.
The collaboration between Kelly and Andy Anderson, principal at Chapman Heights Elementary, noted that this opportunity has been phenomenal. "Thank goodness for Mr. Kelly and his spirit to involve our students in this program," Anderson said.
The governor of California signed into law Bill AB-1719 that required all high school graduates to be trained in CPR. According to the American Heart Association, each year over 325,000 people have experienced cardiac arrest, with not even a third receiving CPR.
"Though these kids are small, we are teaching them the skills and know how to tell an adult how to do CPR if needed," said Kelly, event organizer.
In celebration of Red Ribbon Week, special guest Dick Riddell, mayor of the city of Yucaipa attended the festivities. Riddell addressed the students, teachers and staff of Chapman Heights Elementary acknowledging a job well done on their CPR training.
Additional guests also included Cali Binks, superintendent, Eric Vreeman, EdD, assistant superintendent for educational services, Patricia Ingram, Yucaipa-Calimesa Joint Unified School District board president and David Lopez, EdD, RCP, RRT, department chair of cardiopulmonary sciences at LLU School of Allied Health Professions.
The mayor presented Lopez with an honorary certificate on behalf of the city in recognition of LLU's commitment to educate and help local communities in health care safety.
Life Support Education has been teaching classes in accordance with the American Heart Association and guiding principles of Loma Linda University for the past 30 years. Its instructors are highly skilled and experienced professionals. Their classes have train both health care professionals and non-professionals how to successfully prepare for life-saving emergencies.
When asked how the students responded to their new training, Cindi Crosby, PTA president said they were real receptive to it, energetic and excited. "I hope they can take what they learned and apply it whenever needed," Crosby said.
Life Support Education is currently in the process to partner with Redlands Unified School District and Indian Springs High School for future CPR training events.
For more information on Loma Linda University's Life Support Education, email lifesupporteducation@llu.edu.