Media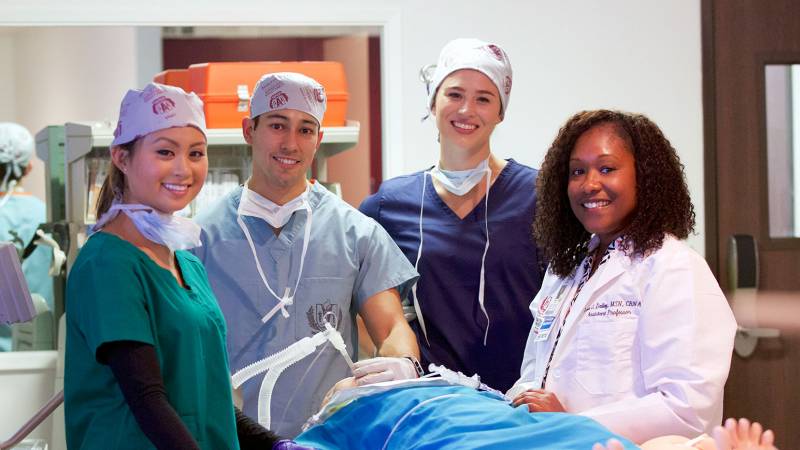 Loma Linda University School of Nursing has launched a Doctorate of Nursing Practice (DNP) degree program designed to educate bachelors-prepared critical care registered nurses in the advanced practice nurse anesthetist role across the lifespan. This program will be replacing the highly successful existing nurse anesthesia MS degree program, which has been in operation since 2011.
"We're pleased to offer this new program for entry into practice in response to a growing national demand for doctoral-level nurse anesthesia education," said Kurt Cao, DNAP, CRNA, and director of the nurse anesthesia program. "Nurse Anesthetists must be prepared to not only provide excellent anesthesia care to their patients, but to also meet the demands of an ever-changing healthcare system and to lead effective change to sustain and improve patient outcomes."
The program consists of graduate-level core nursing courses, nurse anesthesia concentration courses, clinical courses and DNP practice inquire project courses. It is designed to move students from foundational content through concepts and principles necessary for practice to a clinical practicum sequence for learning and refining of professional clinical practice.
Upon completion, graduates will be able to exercise advanced levels of clinical judgment, systems thinking, and expanded responsibility, as well as become accountable for planning, implementing, and evaluating evidence-based strategies. Graduates will be awarded a Doctor of Nursing Practice degree and will be eligible for certification as nurse anesthetists.
"We designed this program to incorporate the same core principles that have made our MS degree program such a success" Cao said. "This includes a focus on excellent preparation for nurse anesthesia clinical practice in an environment that fosters physical, intellectual, emotional, relational, cultural, and spiritual development."
The Nurse Practitioner and the Clinical Nurse Specialist concentrations are also offered within the DNP program.
The program's curriculum meets the American Academy of Colleges of Nursing's Essentials of Doctoral Education for Advanced Nursing Practice and the Council on Accreditation of Nurse Anesthesia Educational Programs' (COA) Practice Doctorate Standards for Accreditation of Nurse Anesthesia Programs. The nurse anesthesia program is accredited by the COA and the School's BS, MS, and DNP programs are accredited by the Commission on Collegiate Nursing Education (CCNE). Loma Linda University is fully accredited by the Western Association of Schools and Colleges (WASC).
For more information, call 909-558-4923 or visit https://nursing.llu.edu/graduate-programs/bs-dnp