Media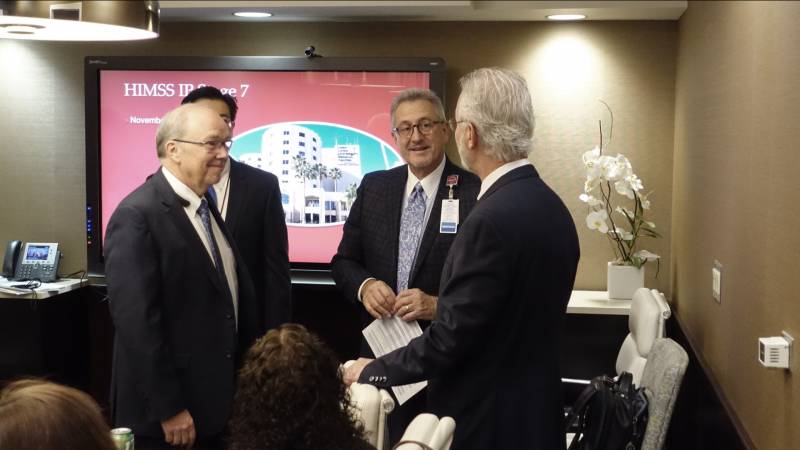 Held by only 6.1 percent of hospitals, Loma Linda University (LLU) Medical Center, Children's Hospital, Surgical Hospital and East Campus have achieved Stage 7 of the inpatient Electronic Medical Record Adoption Model (EMRAM) from the Healthcare Information and Management Systems Society (HIMSS) Analytics.
The Stage 7 designation was given during a survey visit to Loma Linda University Health on Nov. 7. The survey team, led by Philip Bradley, North American regional director for the Healthcare Advisory Services Group at HIMSS Analytics, complimented Loma Linda University Health on their:
Robust use of data
True partnership between operations and information technology
Staff enthusiasm
Effective cases studies
Operational dashboards and management
Generally paperless evironment
One of the many initiatives lauched by the organization included a decision support tool. This was created to help providers and pharmacists improve the ability to conduct complicated calculations to reach effective use of vancomycin, an antibiotic to treat infections. LLU Medical Center began by programming calculations into patients' electronic medical records to help ensure faster delivery of information and more consistent results in reaching goal blood levels.
"Loma Linda University Medical Center's commitment to excellence is best seen in their use of technology to calculate vancomycin dosing, especially in pediatric patients," said Bradley.
After thorough staff training and positive results shown from trial runs, the organization has begun implementing the new process across all of their Children's Hospital units.
"Achieving HIMSS Analytics EMRAM Stage 7 speaks to Loma Linda University Health's commitment to maximizing existing technology to provide quality care for all of our patients," said Francis Chan, MD, chief medical information officer at LLU Medical Center. "We are confident our health care team will continue to seek out both proven and original methods to continue our institutional mission."
HIMSS Analytics will recognize Loma Linda University Medical Center at the 2018 HIMSS Conference & Exhibition, held March 5-9 at the Venetian-Palazzo-Sands Expo Center in Las Vegas.
Visit the HIMSS Analytics website for more information on the health care provider maturity models and Stage 7 award.
About HIMSS Analytics
HIMSS Analytics is a global healthcare technology market intelligence, research and standards organization assisting clientele in both healthcare delivery and healthcare technology solutions business development to make lasting improvements in efficiency and performance. Visit the HIMSS Analytics website for more information on the EMRAM and other maturity models.