Media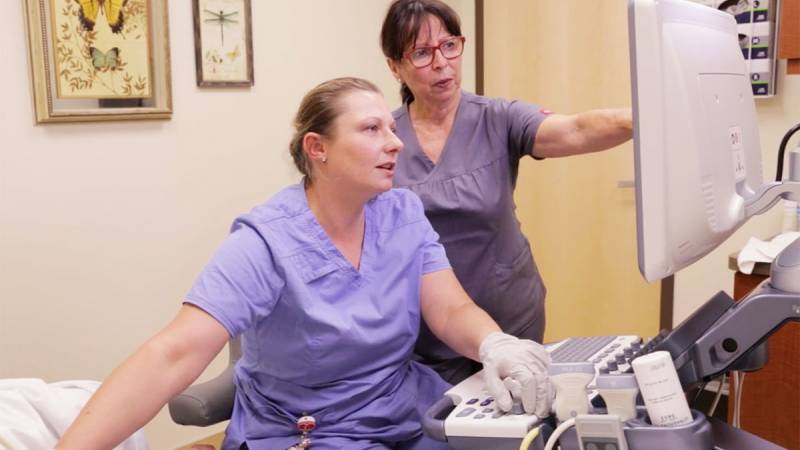 Loma Linda University's School of Allied Health Professions has introduced a bachelor's degree in diagnostic medical sonography, expanding the program from a certificate degree to meet the needs of the industry that is increasingly seeking graduates of a four-year program.
Applications are now being taken for the program's first bachelor's degree co-hort. The priority deadline to apply is October 15, with a final deadline of December 15.
Medical sonography, commonly known as ultrasound scanning, is a diagnostic medical procedure that uses high frequency sound waves to produce dynamic visual images of organs, tissues, or blood flow inside the body. Unlike X-rays, sonography is a radiation-free imaging modality.
Sonography is often used to examine many parts of the body, such as the abdomen, breasts, obstetrics & gynecology, prostate, heart and blood vessels. Sonography is increasingly being used in the detection and treatment of heart disease and vascular disease that can lead to a stroke. It is also used to guide fine-needle tissue biopsies.
A sonographer may provide this service in a variety of medical settings where the physician is responsible for the use and interpretation of ultrasound procedures. Sonographers assist physicians in gathering sonographic data necessary to reach diagnostic decisions.
"This is such a rewarding field," said Marie DeLange, program director for diagnostic medical sonography at Loma Linda University's School of Allied Health Professions. "There is great satisfaction and reward to be able to use critical thinking skills in partnering with physicians to determine a diagnosis to better care for the patient."
Loma Linda University's diagnostic medical sonography degree is a 27-month program, approximately 80 percent of which is classroom coursework and 20 percent completed online. Students spend more than 30 hours a week in a clinical setting. Classes are held once a week for 2 to 5 hours.
Loma Linda University also offers a cardiac sonography certificate, which involves more in-depth study of the heart, including heart hemodynamics, normal anatomy, disease processes and patient treatment.
The cardiac sonography certificate program begins each autumn, and the program length is 12-months. This program prepares students to sit for the board exam and RDCS credentialing exam. All students are required to take and pass the ARDMS Standard Physics and Instrumentation (SPI) exam before completion of the program.
Sonography is a good fit for a career…
If you want to work in a fast-paced, satisfying career in the medical field...
If you seek a significant role on the health care team to help in patient diagnosis...
If you desire more responsibility, working closely with physicians.
The sonography programs at Loma Linda University offer:
A variety of clinical sites with extensive clinical hours...
A broad exposure to patient cases...
A unique student experience with experienced faculty who care about you...
A learning environment that supports and motivates you toward your success.
This news release follows last month's announcement that the school has also expanded its nuclear medicine certificate into a bachelor's degree.
"We continue to offer newly expanded programs so our students — and their future employers — will receive the greatest possible benefit for serving patients," said Laura Alipoon, EdD, RT, chair of the school's Department of Radiation Technology. "We look forward to announcing more expanded programs soon."
PHOTO CAPTION: Marie DeLange, DMS, right, program director, instructs a diagnostic medical sonography student.