Media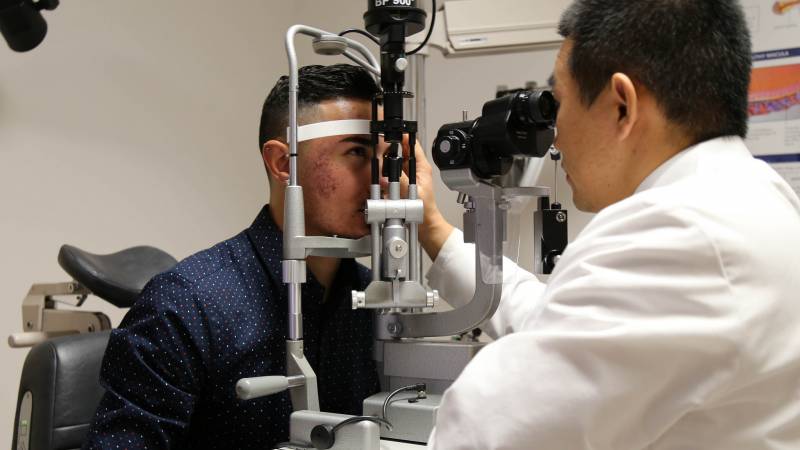 Loma Linda University Eye Institute recently performed its first corneal cross-linking procedure, on patient Alonzo Contreras, 22, to help slow the progression of keratoconus.
Keratoconus is a progressive disease in which the cornea (a clear, dome-shaped window at the front of the eye) thins out and bulges like a cone. Due to the irregularity of the cornea's shape, individuals experience progressive visual distortion. Keratoconus affects one in 2,000 people in the U.S. and is typically seen in young adults.
Corneal collagen cross-linking — available through Avedro's Photrexa products and KXL System — is an innovative new procedure that combines the use of ultra-violet (UV) light and riboflavin (vitamin B2) eye drops. The procedure works by creating new corneal collagen cross-links, which results in a shortening and thickening of collagen fibrils, which leads to stiffening the cornea.
The treatment was brought to Loma Linda University Health at the end of 2016 following the FDA approval. All procedures are currently performed in-house at Loma Linda University Eye Institute.
"This is currently the only treatment available to patients with keratoconus and corneal ectasia," said Frank Hwang, MD, ophthalmologist who performed the first procedure at the Eye Institute. "The treatment was developed to prevent further progression of the disease and prevent permanent vision loss."
It takes approximately one hour per eye to undergo corneal cross-linking. Hwang said most patients experience some discomfort for about a week following the procedure and are required to take eye drops to prevent infection.
"It was quick and painless," said Alonzo Contreras, the first patient at Loma Linda University Eye Institute to receive corneal cross-linking. "I would definitely recommend this procedure to other patients with a similar condition."
Contreras is originally from Fontana and now resides in San José. He said he has noticed some improvement in his eyesight since the procedure in October. "In the long run, I hope I won't need any other procedures as it's meant to stop the growth," Contreras said.
The benefits of the innovative new procedure include:
Limit or halt the progression of keratoconus by stiffening the cornea
Reduction in maximum corneal curvature
Prevent further need for corneal surgeries, including a corneal transplant
Patients over the age of 14 who have been diagnosed with progressive keratoconus or corneal ectasia following refractive surgery are considered prime candidates. Loma Linda University Eye Institute is currently accepting patients.
"The goal of the treatment is to prevent further surgery and risk of vision loss for patients," Hwang said. "Our goal is to help our patients live their fullest lives."
For more information on Loma Linda University Eye Institute and the corneal cross-linking procedure, visit llueyes.com or call 909-558-2000.