Media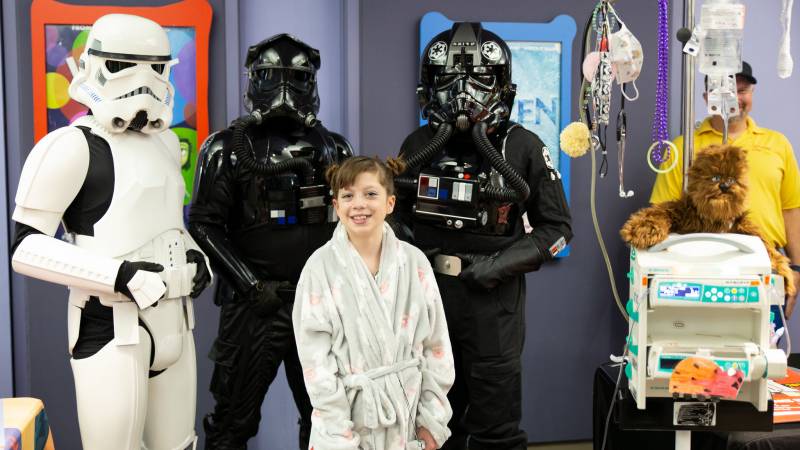 Patients at Loma Linda University Children's Hospital were given a break from their daily routines and treated to a fun afternoon of giveaways, crafts and games at Luke's Pride Fall Community Day. The special afternoon, courtesy of local businesses and organizations, took place at LLU Children's Hospital on Thursday, August 30.
The event was set up like a community fair, allowing businesses from the local area to see LLU Children's Hospital and interact with the kids; a win-win for both local supporters and hospital patients.
LLU Children's Hopsital patient Codi Pelton, 13, of Desert Hot Springs was especially excited to see "Stormtroopers" from the 501st Legion Star Wars. The self-proclaimed "huge" Star Wars fan was dressed for the event, sporting a popular "Princess Leia" hairstyle, "Stormtrooper" slippers and a "Chewbacca" stuffed-animal. Pelton was so excited, she even video-called her mom on a cellphone to introduce her new friends.
Luke's Pride Fall Community day was coordinated through the LLU Children's Hospital Foundation and child life services, which works to minimize fears and stress that children, adolescents and families experience during hospitalization. Child life specialists develop age appropriate activities for patients ranging in age from birth to young adult.
Activity booths were provided by community businesses and organizations including:
501st Legion Star Wars
Agua Caliente Clippers
Ashley Furniture Homestore
Auto Club Speedway
Chuck E. Cheese
Fiesta Village
Fruit Ripe
Kids N Smiles
Modern Woodmen Financial
Raising Canes
To learn more about LLU Children's Hospital and our commitment to children's health journeys, visit our website or call 800-825-KIDS for general information.