Winners invited to share innovations at the ACCC 34th National Oncology Conference
Media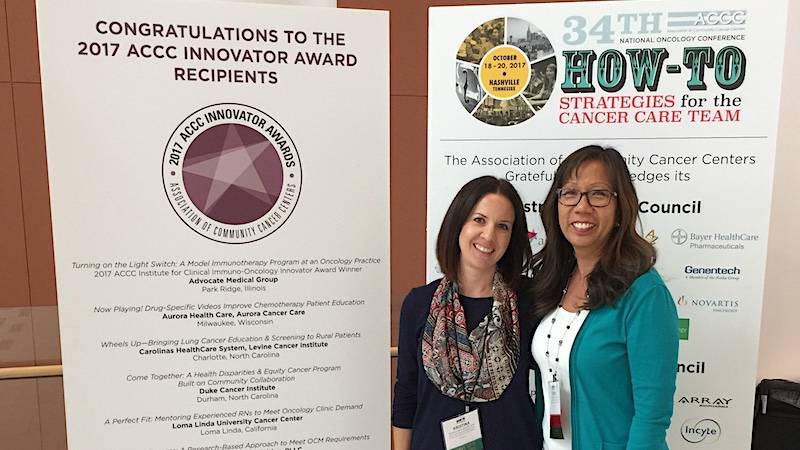 Loma Linda University (LLU) Cancer Center is a recipient of the 2017 ACCC Innovator Award, presented by the Association of Community Cancer Centers, for their innovative program, A Perfect Fit: Mentoring Experienced RNs to Meet Oncology Clinic Demand.
The Innovator Awards recognize members that exhibit forward-thinking and pioneering programs that improve access, quality and/or cost-effectiveness of cancer care delivery.
LLU Cancer Center created its program to encourage career development and specialization in oncology as an effective alternative to minimize staffing shortages.
During the ACCC 34th Oncology Conference held Oct. 18-20 in Nashville, TN, Lexine Thall, MN, RN-BC, AOCN®, director of patient care at LLU Cancer Center, and Kristina Chase, BSN, RN, OCN®, supervisor of patient care at Loma Linda University Health Beaumont-Banning, accepted the award on the Center's behalf.
While in Nashville, Thall and Chase had the opportunity to share with various health care organizations how they overcame staffing shortages by thinking outside-the-box.
"Our aim was to provide a mentorship program in conjunction with vetted education tools to develop these RNs professionally and alleviate our staffing crisis," Thall said.
The pilot program launched in 2014 following an analysis of appointment types and RN skill level needed for each visit type. The results showed that 40 percent of the Cancer Center's supportive care therapies (e.g. hydration, blood transfusions) did not require an RN with chemotherapy skills and oncology experience. The information offered a unique opportunity to fill RN vacancies with experienced non-oncology nurses and create a pathway for RNs to obtain their Oncology Nursing Society (ONS)/Oncology Nursing Certification Corporation (ONCC) Chemotherapy Biotherapy Certificate.
"It has given many nurses an opportunity to gain experience in a specialty area for which many employers may not be willing to bear the educational costs," Thall said.
Through the mentorship program, 100 percent of participants have attained the ONS/ONCC Chemotherapy/Biotherapy Provider Card. Additionally, 90 percent of the participants attaining the Chemotherapy/Biotherapy provider card have remained with the organization.
For more information on Loma Linda University Cancer Center, visit cancer-center.lomalindahealth.org or email cancer@llu.edu. 

Loma Linda University Health includes Loma Linda University's eight professional schools, Loma Linda University Medical Center's six hospitals and more than 900 faculty physicians located in the Inland Empire of Southern California. Established in 1905, Loma Linda University Health is a global leader in education, research and clinical care. It offers over 100 academic programs and provides quality health care to over 40,000 inpatients and 1.5 million outpatients each year. A Seventh-day Adventist organization, Loma Linda University Health is a faith-based health system with a mission "to continue the teaching and healing ministry of Jesus Christ."
Press Contacts
---
Genesis Gonzalez