Funds will be used to help alleviate some emotional and financial burdens for patients
Media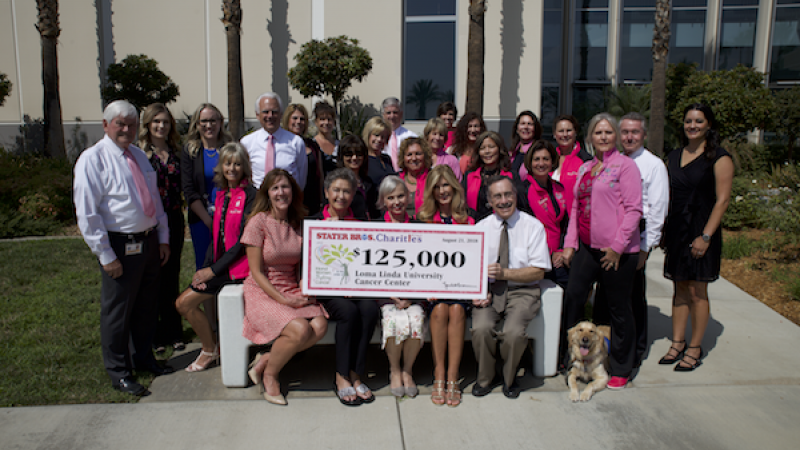 SAN BERNARDINO, CA – September 13, 2018 – Stater Bros. Charities and the Inland Women Fighting Cancer presented a check for $125,000 to Loma Linda University Cancer Center on August 21. The funds were a portion of those raised at the 10th annual Believe Walk in October 2017.
Mark Reeves, MD, PhD, director of the Cancer Center, said the donation will be used to support the psycho-oncology program, which assists with services not typically covered by insurance such as psychologists, spiritual chaplains, financial guidance, dieticians, and wig banks.
During the check presentation at the Stater Bros. corporate headquarters, Reeves said these services can make a difference for patients — and their families — going through cancer treatment, which can be an emotional and financial process. 
"Patients who have benefited from the program have told me how important it is to be able to make it through difficult treatments," Reeves said. "These services are impactful and mean everything to our patients, and I thank the Inland Women Fighting Cancer and Stater Bros. Charities for supporting these efforts." 
President and CEO of Stater Bros. Peter Van Helden said any day that they can give back to the community is a great day.
"We want to give back to the communities where our customers and employees live and work," Van Helden said. "It has been over 10 years since the Believe Walk was formed, and we are proud to say we have given millions of dollars to help those in the community battling cancer."
Van Helden says the first walk had 1,500 walkers in 2008. The Believe walk was created through the partnership of the Inland Women Fighting Cancer founding members Nancy Varner, Cathy Stockton and Annie Sellas and Stater Bros. Charities. The walk has now grown exponentially to approximately 10,000 participants. Since its inception, the partnership between Stater Bros. and Inland Women Fighting Cancer has donated over  $4.6 million dollars to support programs and services for cancer patients in the Inland Empire.
The 11th Annual Believe Walk will take place in Redlands, Sunday, Oct. 7.

Loma Linda University Health includes Loma Linda University's eight professional schools, Loma Linda University Medical Center's six hospitals and more than 900 faculty physicians located in the Inland Empire of Southern California. Established in 1905, Loma Linda University Health is a global leader in education, research and clinical care. It offers over 100 academic programs and provides quality health care to over 40,000 inpatients and 1.5 million outpatients each year. A Seventh-day Adventist organization, Loma Linda University Health is a faith-based health system with a mission "to continue the teaching and healing ministry of Jesus Christ."
Press Contacts
---
Heather Jackson - Public Relations Specialist