Media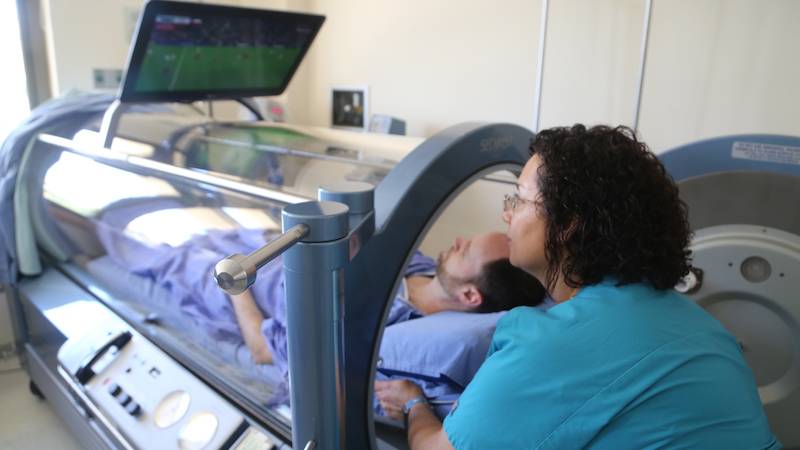 The Undersea and Hyperbaric Medical Society recently awarded full accreditation to Loma Linda University Medical Center's (LLUMC) Hyperbaric Medicine Service, signaling that the facility meets or exceeds the highest standards of care and patient safety within the medical specialty.
Hyperbaric oxygen therapy involves the use of medical oxygen administered in a sealed chamber at levels higher than atmospheric pressure, enabling oxygen to dissolve more rapidly into the blood. It's used as part of a multi-disciplinary approach to the management of wounds and other conditions, such as pressure-related scuba diving injuries, arterial obstructions due to blood clots or air bubbles, and carbon monoxide poisoning.
Participation in Undersea and Hyperbaric Medical Society accreditation is voluntary. Laren Tan, MD, medical director for hyperbaric medicine at LLUMC, said the accreditation demonstrates the organization's commitment to the highest standards of practice and patient safety.
"We are proud of our team members for achieving this significant milestone and for their commitment to our patients," Tan said. "It could not have been achieved without the concerted effort of our physicians, respiratory care practitioners, critical care nursing staff, technicians and management team working together."
Tan said LLUMC is one of only two accredited academic hyperbaric oxygen centers in all of California. Roughly 200 of the approximately 1,500 hospitals in the United States offering hyperbaric oxygen therapy have earned the right to display the Undersea and Hyperbaric Medical Society accreditation seal.
Hyperbaric treatment has become more user-friendly in recent years. Instead of the claustrophia-inducing metal chambers of the past, the clear acrylic chambers of today allow patients to look outside, recline in comfort, watch their favorite TV shows or movies on a large, flat-screen TV with its own DVD player, or take a nap throughout the two-hour treatment. A specially trained chamber operator is present at all times throughout the procedure.
Since the inception of Hyperbaric medicine at LLUMC in 1981 the program has expanded from a single chamber to four chambers today, including one that can accommodate patients up to seven feet in height and 400 pounds in weight.
Tan said Loma Linda University Health is the only regional center in the Inland Empire that performs routine and critical care hyperbaric treatments.
The Undersea and Hyperbaric Medical Society is an international nonprofit association serving health professionals in the fields of hyperbaric and dive medicine in more than 50 countries. Accreditation certifies that all aspects of a hyperbaric medicine program have been certified to ensure the utmost quality within the medical specialty.
Lori Scott, MBA, RCP, RRT, executive director of the department of respiratory care, says the goal of the accreditation process is for patients to have the highest confidence in the safety of the program as well as the care offered to them.
"The accreditation is our way of telling patients that we take our responsibilities as their care providers seriously," Scott said.