Media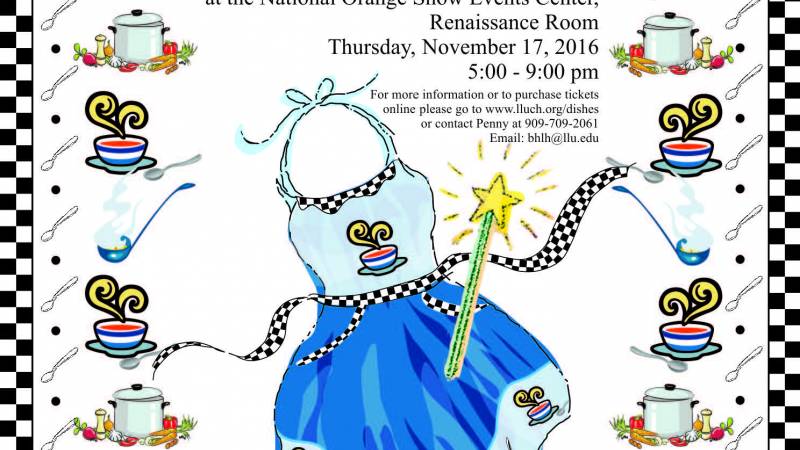 SAN BERNARDINO, CA – November 10, 2016 – Get your appetite ready! The annual Dishes for Wishes is happening Thursday, Nov. 17, 5 to 9 p.m. at the National Orange Show Events Center, 690 S. Arrowhead in San Bernardino.
The Big Hearts for Little Hearts Loma Linda Guild has put together a wonderful night to benefit patients at Loma Linda University Children's Hospital (LLUCH).
This year's "Soup's On" theme will welcome six community chefs to the stage as they present their favorite soup recipes. Headlining the event is the Inland Empire's own Martha Green from The Eating Room and Dough L'ectibles in Redlands.
Chefs from Romano's Italian Restaurant, Dhat Island Caribbean Creole Cuisine, Watercress Vietnamese Bistro and Loma Linda University Catering will also be demonstrating dishes.
As a special treat, Sherry Nolfe, LLUCH executive director of patient care will take the stage with one of her creative recipes.
Guests will be served by men and women in uniform from Colton Fire Department, Loma Linda Fire Department, Redlands Fire Department and San Bernardino Sheriff's Department. All tips collected will be donated to Children's Hospital.
In addition to warm comfort food, guests can also shop from nine vendors, all of which will be donating 20% of their proceeds back to LLUCH.
Tickets for the event are $65. Shopping hour begins at 5 p.m. and chef presentations begin at 6 p.m.
For more information or to purchase tickets go to lluch.org/dishes.
###