Media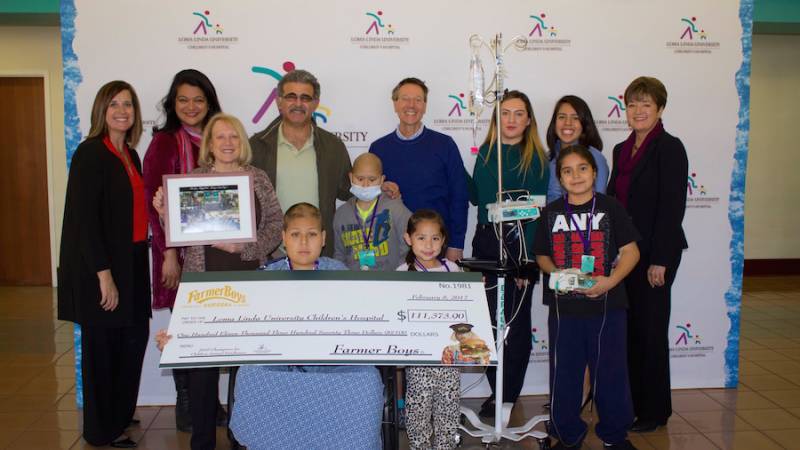 Representatives from Farmer Boys stopped by Loma Linda University Children's Hospital (LLUCH) and they didn't come empty handed.
Restaurant Founder and CEO, Demetris Havadjias, along with the president and COO, Karen Eadon presented a check for $111,374 to the hospital Wednesday, Feb. 8. Funds were raised during the 16th annual "Give a Helping Hand" fundraiser, which was held Sept. 6 – Oct. 14, 2016. During that time Farmer Boys guests were invited to make a donation by purchasing a paper "Be a Champion for Children" icon for $1 or more.
"This has been the most successful fundraiser to date," said Eadon, who also highlighted that the Loma Linda location raised the most of all the Farmer Boys restaurants.
Over the past 16 years Farmer Boys has donated more than $655,000 to LLUCH.
"Farmer Boys has been a true champion for our kids and the community," said Sherry Nolfe, executive director of patient care, LLUCH. "These gifts have made a direct impact on giving us the tools and resources we need to save lives, and they are helping us build a future for our new hospital."
LLUCH patients were able to attend the check presentation in the hospital lobby and accepted the check on behalf of all the kids receiving care.
The majority of the funds donated will go toward Vision 2020, The Campaign for a Whole Tomorrow, and the construction of the new hospital tower, and a portion will go toward the sponsorship of the annual Children's Day held every spring.
The generosity of Farmer Boys has not gone unnoticed over the years. They will be recognized with the Shirley N. Pettis Award at the annual Foundation Gala next Thursday, Feb. 16 at the Riverside Convention Center.
Havadjias noted that he and the Farmer Boys team are proud to have LLUCH in the community because LLUCH is "contributing to humanity." He added that while this fundraiser was successful, he is hoping to bring a bigger check next year.

The Children's Hospital is the only dedicated pediatric hospital in the vast geographic region of San Bernardino, Riverside, Inyo and Mono counties. With 348 beds dedicated just for kids, one of the largest Neonatal Intensive Care Units in the country and more than 100,000 children who come each year, LLUCH is a major pediatric teaching facility, known worldwide as the pioneer of neonatal heart transplantation. LLUCH is part of Loma Linda University Health – the umbrella organization encompassing Loma Linda University's eight professional schools, Loma Linda University Medical Center's six hospitals and more than 900 faculty physicians located across the Inland Empire in Southern California. A Seventh-day Adventist organization, Loma Linda University Health is a faith-based health system with a mission "to continue the teaching and healing ministry of Jesus Christ."
Press Contacts
---
Briana Pastorino - Manager, Public Relations