Media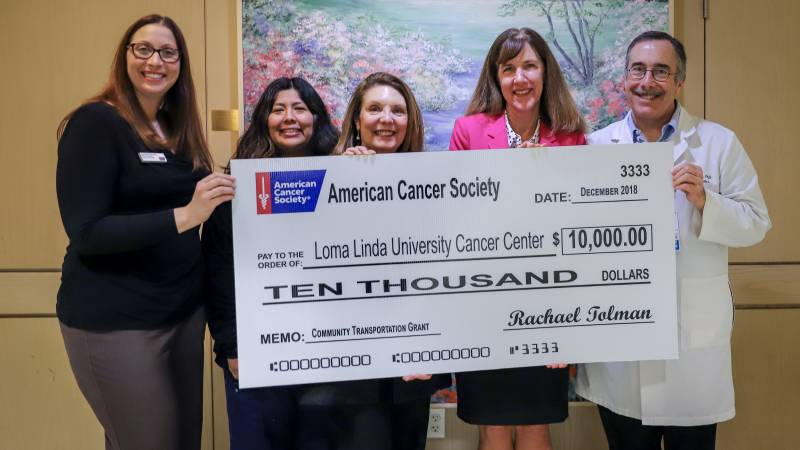 LOMA LINDA, CA — January 17, 2019 — The American Cancer Society wants to get cancer patients to their appointments, period, according to society representatives. That is why on January 16 the Loma Linda University Cancer Center received a $10,000 American Cancer Society Community Transportation Grant.
This is the first year the American Cancer Society provided the transportation grant. It was awarded to only three cancer centers in the San Bernardino and Riverside counties. Rachel Tolman, an American Cancer Society program manager for mission delivery in the western region, says the grant will help fill in the gaps of the current transportation assistance program.
Currently, their program called Road to Recovery uses volunteer drivers to help get patients to appointments. If there are no drivers available or if vouchers for public transportation are not a viable option, Tolman believes this grant will allow cancer centers to provide additional aid.
"Even the best treatment cannot work if a patient cannot get there," Tolman says. "This grant is a way that, while we cannot do it all and help everyone, allows us to look at cancer centers to step in and provide another resource."
According to Judy Chatigny, MSN, executive director of Loma Linda University Cancer Center, the biggest need for their patients is transportation. Chatigny says sometimes family members or friends have to step up to use their own money to help a patient. She says this grant will help break some of those logistical barriers, help get patients in for the treatment they need and help them focus on their medical journey.
"We know that the distress caused by a cancer diagnosis can negatively impact not only the patient's moods, emotions and outcomes, but it impacts the entire family," Chatigny says. "To be able to ease that burden is extraordinary because it gives patients hope, and hope is what gives energy to all of us."
If you or a family member is interested in learning more about the full range of services offered at the Loma Linda University Cancer Center, call 1-800-782-2623.