Media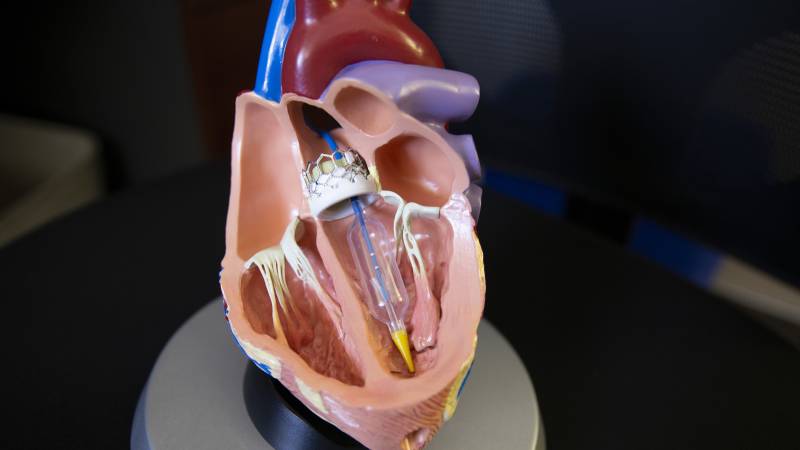 MURIETTA, CA — January 14, 2019— Surgeons at Loma Linda University Medical Center – Murrieta performed the hospital's first transcatheter aortic valve replacement procedure — or TAVR — on January 14.  Currently, it is the only hospital in the region to offer this non-invasive heart procedure to patients in the community.
TAVR is a non-surgical alternative procedure that treats aortic stenosis — a heart valve disease that causes reduced blood flow through theaortic valve. Patients with aortic valve stenosis often suffer from dizziness, shortness of breath, and fatigue. Previously, the standard treatment was open-heart surgery that often has high risk complications with longer hospital stays. Since not all patients with this type of heart diseaseare well enough to undergo open-heart surgery, TAVR provides another option. TAVR is a non-invasive procedure done under conscious sedation rather than general anesthesia, takes less than an hour and allows patients to go home the next day. 
To perform this minimally invasive procedure, an interventional cardiologist and a cardiothoracic surgeon puncture an artery in the leg. Through this small puncture, the team implants a new valve on a balloon  slender enough to fit in the artery. The cardiologist then advances this valve through a sheath to replace the diseased valve. 
Interventional Cardiologist Niraj Parekh, MD, feels that offering the procedure in this area is long overdue. Parekh says having this less invasive option available closer to home will positively impact the patients and families in our community.  Previously, 8 to 10 patients a month would have to be transferred to distant hopsitals, but now the hospital has a waiting list of 25 patients for TAVR.
"This area is underserved for cardiology and for structural heart disease," Parekh says. "I am excited that we can now offer the community a variety of advanced care options locally."
In 2016, the FDA approved the TAVR procedure for intermediate-risk patients as previously only high-risk patients were eligible. Cardiothoracic Surgeon Michael Koumjian, MD, says bringing this procedure to Murietta with access to neighboring cities will serve an increasingly eligible population.
"The TAVR technology is growing and eligibility is expanding," Koumjian says. "To accommodate that growth, we're pleased to be offering this state-of-the-art technology for our community."
To learn more about TAVR, the Loma Linda University Medical Center – Murrieta invites the community to the third annual Heart Health Conference. This conference will  highlight key information regarding TAVR and other heart health tips. The conference will take place at 9 a.m. on Thursday,  February 14 at the Temecula Conference Center at 41000 Main Street Temecula, CA 92590. This is a great opportunity to also speak with specialists.
To learn more about TAVR at Loma Linda University Medical Center – Murrieta visit their Heart Care website or call 951-290-4000.