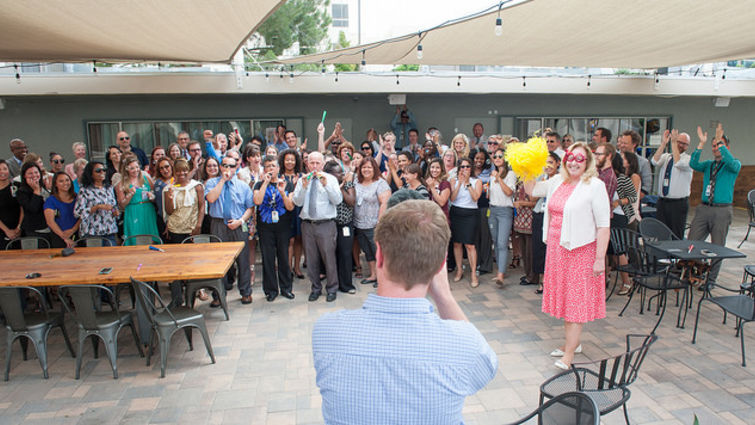 Loma Linda University Health's philanthropic effort Vision 2020—The Campaign For a Whole Tomorrow, passed a significant milestone with the announcement that less than $100 million of the $360 million goal remains to be raised. More than $265.6 million has been raised as of July 5.
Rachelle Bussell, Loma Linda University Health's senior vice president for advancement, said reaching th milestone demonstrates th community and individuals have gotten involved in th effort in amazing ways.
"We are so grateful to all who have donated to the campaign," Bussell said. "Our community friends and university alumni who believe in our mission to continue the teaching and healing ministry of Jesus Christ have played key roles in helping us reach this point. But we know that we still have much work to do. We can't let up."
More than 17,400 donors have made more than 94,800 gifts to the Vision 2020 campaign since its launch in 2013. Vision 2020 is the largest philanthropic effort ever undertaken by Loma Linda University Health, and is intended to support:
    •      Clinical care: funds to complete construction of a new Adult hospital and expanded Children's Hospital, designed to meet California's stringent seismic building codes for health care facilities;
    •      Education and research: support the training of the next generation of health care professionals, and challenge the boundaries of scientific research at Loma Linda University Health;
    •      Wholeness: expansion of research activities, research program endowments, enhanced community programs, and additional focus into how people around the world can enjoy lives of wholeness and health.
"There have been many instances of God's clear leading as we have undertaken the challenge of Vision 2020," said Richard Hart, MD, DrPH, Loma Linda University Health's president. "It is tremendously gratifying to be at this point in the campaign. Vision 2020 plays a key role in achieving our goal of a transformed Loma Linda. The resulting new facilities and resources will build on our reputation and extend our mission and influence for decades to come."
"This last $100 million is less than one-third of our campaign goal," Bussell said. "Now we look to people who have not been involved, who have been waiting to be involved, or who have not had a chance to be involved. Each gift to Vision 2020 will make a real difference in the lives and health of people in the Inland Empire and around the world."
A series of events for employees and the public are planned to commemorate the achievement of this campaign milestone. Details and schedules will be shared as they become final.