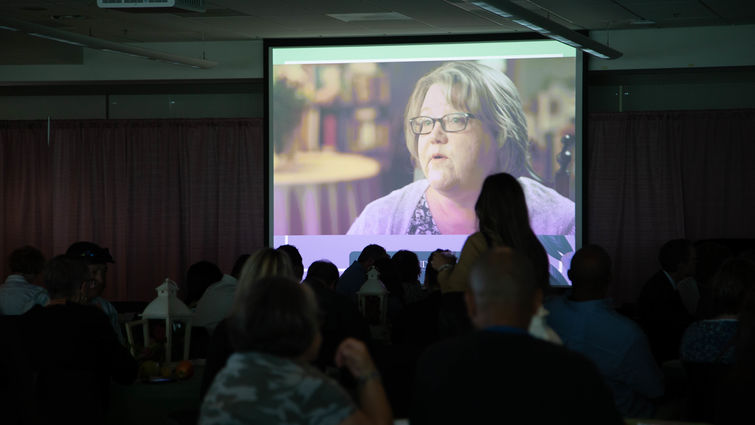 Feathered hats, photo booths, inspirational chalk walls and words of wisdom were seen and heard throughout Loma Linda University Cancer Center's 28th annual Celebration of Life event on June 2. The event offered a community that is battling, or that has survived cancer, strength for the journey. 
Over 200 attendees heard patient testimonials and updates on the latest advances in cancer care.
One of the many stories presented featured Marsha Bradley, who survived Stage 4 colorectal cancer twice, thanks to Loma Linda University Cancer Center, surgical oncologist Maheswari Senthil, MD. Bradley has worked as an educator for 34 years and never thought she would develop Stage 4 colon cancer. 
After a successful round of chemotherapy in 2005, Bradley was cancer-free for the first time. When it returned the second time, in 2010, she came to Loma Linda University Health, where she partnered with Senthil to undergo a complex surgery called cytoreductive surgery that was paired with hyperthermic intraperitoneal chemotherapy (HIPEC). Senthil is only a handful of surgeons in Southern California who can perform this surgery. 
Bradley's Stage 4 colorectal cancer journey was shared through a video testimonial during the event. 
Senthil also shared the latest advances in cancer care, saying that genomic and precision medicine has allowed physicians to customize treatment to an individual patient. Through advances in cancer science, physicians have learned that behavior of cancer is different in everyone, even if it has the same name and stage. With the ability to personalize care through more precise diagnostics, as well as other advancements in treatment, the mortality rate has decreased for the three most common cancers in men and women. 
Regardless of new scientific frontiers, Senthil said compassion must remain the constant.
"If we do not care for our patients with compassion and kindness, what do any of these advances mean?" Senthil said. "It all comes down to basic human kindness and compassion in which the care is delivered, no matter how advanced the science is. At Loma Linda University Health, we have already done that, and the scientific advances are added to this regimen."
In addition, two oncology nurses were given the Courage to Care Award for their exemplary compassionate care.